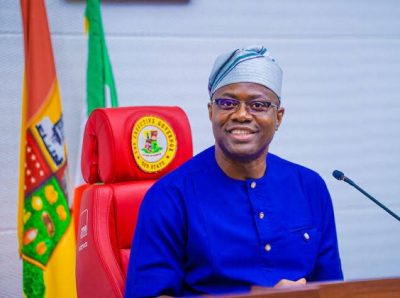 The Oyo State Governor, Seyi Makinde, has stated that with his re-election and the circumstances surrounded his victory at the just concluded Saturday's election, he had broken the glass ceiling preventing young ones from attaining whatever they desire in the state.
PUNCH reports that Makinde polled 563,756 votes to defeat his closest rival, Teslim Folarin of the All Progressives Congress, who scored 256,685 votes, while Adebayo Adelabu of Accord Party got 38,357 votes.
Makinde, who stated this, on Tuesday, during a re-election victory celebration, organised by Dotun Sanusi, the chairman of Ilaji Hotels and Sport Resort at Akanran in Ona Ara Local Government Area of the state, assured the people of the state that his administration would not discriminate on the basis of religious, ethnic and political affiliations in distributing dividends of democracy.
He said, "Now, the campaign is over. It is left for us to forge ahead. The task ahead is to continue the good work and take our people from poverty to prosperity. It is a call for more work for the progress of the state. And I give you the assurance, just like in the first tenure, this administration will not discriminate on the basis of religion and ethnicity or where you come from. We will not discriminate against those who did not support us. This will be a government for the people of the state and the progress of the state.
"We are building an Oyo state where no matter who your father is, the opportunities are there for you. I want our youngsters to take notice of this. There is no more glass ceiling in the state. Makinde has broken all the glass ceilings. I have broken the glass ceiling for the youngsters in the state. Our young ones can now attain whatever position they desire," he stated emphatically.
The governor, therefore, appreciated Sanusi for organising the party.
In an interview with newsmen, Sanusi said, "I was called to support Atiku Abubakar, the People's Democratic Party presidential candidate during the presidential election, but I insisted that I am supporting Bola Tinubu of All Progressives Congress, who is now the President-elect. I also stood my ground that I would support Makinde's re-election.
"They said Makinde would not win because he refused to support Atiku. But was sure he would emerge because his performance was unprecedented during his first term as the governor of the state," he stated.
Among the dignitaries that graced the celebration were the leadership of Christian Association of Nigeria, Muslim community, traditional religion worshippers, traditional rulers, traders, artisans, people living with disabilities, Central Council of Ibadan Indigenes, herbal healing practitioners, and ace entertainers.