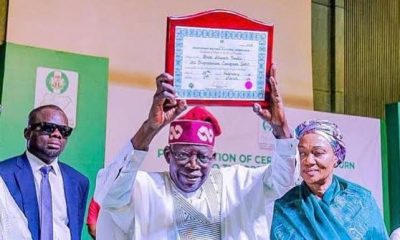 Vice-presidential candidate of the Labour Party, Datti Baba-Ahmed, has described the victory of President-elect Bola Tinubu at the February 25 election as a mirage that will soon vanish as his party commenced legal actions against Mr Tinubu's victory.
The Labour Party filed its petition, challenging the election results on four grounds, before the elections petitions tribunal on Tuesday.
Likening Mr Tinubu's certificate of return to a dud cheque that lacked the required credit to be considered of any value, Mr Baba-Ahmed said the election did not produce any legitimate winner.
"We do not have a president-elect in Nigeria today. What Alhaji Tinubu is holding is a dud certificate. It's a dud cheque. There are no funds in that account. It will bounce," Mr Baba-Ahmed said on ARISE TV.
Although the Labour Party candidate cited the wrong section, he attempted to dissect what he described as the constitutionality of Mr Tinubu's emergence. He posited that the Independent National Electoral Commission (INEC) misinterpreted a particular section of the Constitution (133(b)) which addresses the number of votes the president-elect must garner to be declared the winner.
Section 133 (1) (b) of the Nigerian Constitution states that a candidate can only be declared president if "he has not less than one-quarter of the votes cast at the election in each of at least two-thirds of all the states in the federation and the Federal Capital Territory, Abuja."
According to Mr Baba-Ahmed, INEC did not comply with this section as Mr Tinubu lost the FCT to the Labour Party having had only 90,902 votes (19 per cent) against Labour Party presidential candidate Peter Obi's 281,717 (61 per cent).
"There is the clear interpretation of 134, and there is the INEC interpretation of 134," he said.
Mr Baba-Ahmed's claim came as legal arguments over how to interpret the clause are interrogated in the chambers of election counsels.
Femi Falana, a senior lawyer in Nigeria, has argued that other provisions of the Constitution define the Federal Capital Territory as Nigeria's 37th state, making the 25 per cent requirement not mandatory in the FCT.
The Appeal Court will have busy weeks ahead as it examines the arguments brought by contending parties and candidates arguing that they were unfairly edged out in the election.
The Labour Party, the APC, and the PDP had asked the court for permission to examine sensitive election records to look for irregularities and gather sufficient proof to back up their claims of victory.