Jonathan In APC: Nigerians In Shock, Mock Former President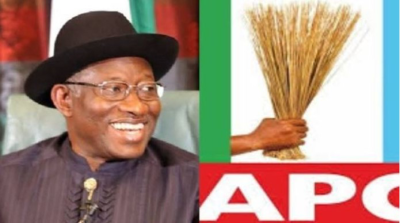 Many Nigerians have taken to social media to mock former President Goodluck Jonathan over reports that he has joined the presidential race under the All Progressive Congress (APC).
Recall that On May 9, Jonathan had publicly rejected presidential expression of interest and nomination forms bought for him by a group, identified as nomadic Fulani pastoralists and Almajiri communities.
Jonathan was quoted as saying that it was an insult for people to buy the form for him without his consent.
However in a recent development, the former president took Nigerians by surprise after making a u-turn on the issue.
GreenWhiteGreen GWG reports that less than 48 hours after disassociating himself from moves by some groups to draft him into the 2023 presidential race, that President Jonathan has finally made up his mind to vie for the top post and reportedly accepted the APC nomination forms procured for him.
Reports gathered from a reliable source confirmed that the former president had indeed, joined the APC formally, having registered at his Otuoke Ward in Bayelsa.
Many Nigerians who had showered praises on Jonathan after rejecting the nomination form bought for him are now left in shock.
While many opine that the move is the dumbest move ever, other are more concerned with dragging Jonathan for playing with their intelligence and making a fool of them.
Many Nigerians have now gone to social media to mock Jonathan over his move to the APC:
@edoDNA: If this is true, what a dumb move! Anyway,he was a dumb ass president. Fool-ani used him when he was president. Now they called him bingo bingo bingo, and he answered them. @GEJonathan, you're a mumu man for embarrassing yourself to please the fool-ani.
@nelkonniyi: Jonathan just displayed the kind of cluelessness he was accused of. Why on earth would a former president be playing dodgeball with his aspiration?
GEJ was/is never his own man!!
@highlandre1: There's no iota of dignity in this man, considering his repeated denials. The little image he's managed to rebuild after leaving office is about to be completely erased by this greedy and insensitive gesture.
If he thinks he'd win the next election, he'll be joking. Yeye man
@tutsy22: They want him to do one term and deliver SS states to APC.
@lutheribe: I am happy for GEJ, specifically to mock Tinubu and Obj. If GEJ emerge as the next president, pls what will be the faith of this people. SHAME. Hausa-fulani have decided and spoken. I am still laughing and waiting to see the outcome. Don't blame GEJ. Yoruba people how market ?
@danielregha: Jonathan has been rumored to join the APC before, & had also said he isn't contesting for the presidency in 2023 so unless he himself addresses this, believing any hearsay will be difficult. If truly Jonathan intends contesting under the APC banner, he should declare publicly.
@chibsdussle: That's the game, APC want to Take over the entire Nigeria, One of their party men some weeks ago promise they'd take over the entire south east.
@ocheejnr: Goodluck Jonathan will loose shamelessly
@stdennis02: The fact remains even if Jonathan wins in 2023, he can't do much in 4 yrs because Nigeria has been badly destroyed in terms of insecurity, weak economy etc and GEJ isn't that brilliant to fix all these deep issues. He should 've kept that goodwill he earned in 2015 in our memory.
While many Nigerians have gone to social media to mock Jonathan over his move to the APC, a formal announcement is being awaited.