Looting still ongoing at national assembly, says Sagay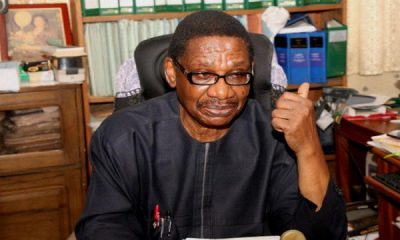 Itse Sagay, chairman of the Presidential Advisory Committee Against Corruption (PACAC), says looting of public funds still takes place at the national assembly through budget padding.
In an interview with PUNCH, Sagay said there is no looting at the executive level.
He said the implementation of treasury single account (TSA) by the Buhari administration has shown that country is making trillions of naira that "nobody knew about".
Sagay said: "Nobody is sharing any money again — but perhaps at the national assembly looting is still ongoing due to budget padding. Some sharing may be going on at that level, but at the executive level, I can assure you that no sharing is going on.
"Remember, we have the treasury single account, though initiated by the Jonathan administration, but never implemented. The TSA has revealed the trillions of naira that this country had been making but which nobody knew about."
The PACAC chairman said Nigerians need to be reminded of their past.
"Nigerians have short memory, we'll keep on repeating it! We'll keep on repeating it! Nigerians will keep complaining that they are hungry, but they won't link it to the horror they were put through because of the PDP's mismanagement," he said.
"We have to keep on repeating it so that Nigerians will stop talking loosely about this government's actions and inaction. Nigerians have short memory, so we need to keep on reminding them.
"We need to keep shaming those people who looted public treasury and the citizens need to know who the source of their problem are. Of course, work is going on."
He said Nigerians can now go to sleep and be assured that every kobo the government makes is being put to good use for their benefit.
Sabi Abdullahi, spokesman of the senate, could not be reached for comments as calls put through to him did not connect and there was also no response to a text message sent.