Obasanjo can't stop Buhari from winning 2019 election – Orji Kalu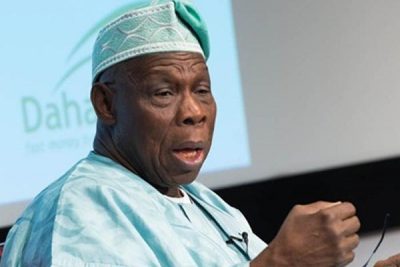 A former Governor of Abia State, Orji Kalu, has expressed confidence that President Muhammadu Buhari will win the 2019 presidential election if he re-contests despite the series of attacks from former President Olusegun Obasanjo and others.
Kalu said this in an interview with journalists in Ile-Ife, Osun State, on Friday, after his peace and advocacy visit to the Ooni of Ife, Oba Adeyeye Ogunwusi.
The former governor said Obasanjo, who spent eight years in office, was the least person competent to attack Buhari's integrity, adding that the former President did not allow anybody to criticise him while in office.
He said, "Talking of integrity, Obasanjo is incompetent to criticise President Buhari. When I was the governor of Abia State, I wrote letters to President Obasanjo, criticising him and because of that, he swore to make life difficult for me. He is today writing letters every week, attacking Buhari.
"I know Buhari very well. He is not corrupt. He does not own property anywhere. Some people should not just put the country in crisis. Whatever they may have in plan, Buhari will return in 2019."
The former governor said that Buhari had demonstrated that he loved the country more than Obasanjo and added that there was no way Nigerians would dump the President based on the series of letters written by Obasanjo to discredit him (Buhari).
Kalu also said that the Igbo could realise the ambition of producing Buhari's successor in 2023, stating, "We can't do it alone. Late Chief MKO Abiola came to my mother's house in Abia many years ago seeking political support.
"While discussing with my mother, MKO said no one could clap with one hand. I will also adopt that adage. We Igbo can't do it alone. The rest of the country should assist us to realise this ambition."
Earlier, the Ooni of Ife thanked Kalu for promoting unity and peaceful coexistence among Nigerians.