Man escapes death as two buildings collapse in Lagos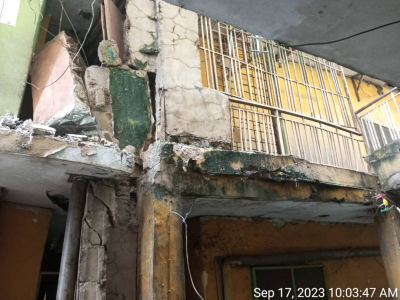 * LASBCA to remove buildings
A male adult narrowly escaped death when he fell from the topmost floor, following a collapse of two buildings at 47/49 Oduntan Street, Kosofe, Ketu, Lagos.
The victim was rescued and taken to hospital for treatment.
The incident involved a two-storey building and a four-storey building situated beside each other.
Over 500 occupants were in the buildings formally used as a school when they partially collapsed as a result of heavy rain on Saturday.
Rescuers attributed the collapse of the buildings to ageing and poor maintenance on the part of the owner.
Residents of the building were asked to vacate the building under the supervision of the combined team of Lagos State Emergency Management Agency (LASEMA), Rapid Response Squad (RRS), Lagos State Building Control Agency (LASBCA), and Lagos State Neighbourhood Safety Corps (LNSC), to avert further secondary incident.
The Guardian learnt that last the building will be pulled down as it has failed structural integrity test, hence posing a threat to the public and adjoining buildings.
Confirming the incident, general manager of LASBCA, Gbolahan Oki, said the agency
will move in swiftly to remove all distressed structures within the Agboye Compound, Ketu.
He said LASBCA had taken a proactive action of serving quit notice before parts of the building caved in during the rains of Saturday; and also evacuated over 500 residents to save them from the imminent collapse.
Oki said despite several notices served by the Agency, some of the residents refused to vacate the buildings, which were exhibiting different signs of distress.
He added that the structural integrity of about eight buildings within the compound could not be guaranteed as several parts of the buildings had started giving way.
According to him, the buildings must be pulled down to prevent casualties and protect the built environment, warning that more stringent measures await those ignoring notices, and directives of the agency.