Man who stabbed Salman Rushdie says he's surprised the author survived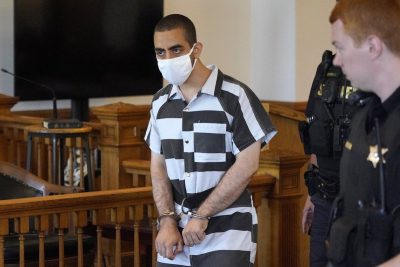 Hadi Matar, a 24-year-old man, charged with stabbing Salman Rushdie, a renowned author, says he is surprised the writer survived the attack. 
Rushdie, author of the controversial novel, The Satanic Verses, was stabbed last Friday when he was about to deliver a lecture at the Chautauqua Institution in New York.
The author was said to have been stabbed in the eye, neck and abdomen.
Matar was arraigned in court and remanded in Chautauqua County prison in New York for the stabbing.
Speaking with New York Post from prison,Matar said he was surprised when he heard the author survived the stabbing.
"When I heard he survived, I was surprised, I guess. He's someone who attacked Islam, he attacked their beliefs, the belief systems," Matar was quoted as saying.
The Satanic Verses, a novel published in 1988 and based on magical realism, but with references that challenge Islamic beliefs, sparked controversy and led to violent protests in some countries.
While the book was banned in some countries, the author has been receiving death threats for his works.
In 1989, Ayatollah Khomeini, supreme leader of Iran at the time, issued a fatwa (an Islamic religious decree) which ordered the killing of Rushdie, and the author was forced into hiding for several years.
However, while the government of Iran has now said it no longer supports the move to kill Rushdie, as of 2016, a bounty of over $3 million was reportedly raised for his killing.
Asked if he was inspired by the late Khomeini's fatwa calling for the death of the author, Matar said: "I respect the Ayatollah. I think he's a great person. That's as far as I will say about that."
He said he only read "a couple of pages" of the book. I didn't read the whole thing cover to cover," he added.
Andrew Wylie, agent to Rushdie, had said the writer's condition has recorded some improvement.
"He's off the ventilator, so the road to recovery has begun. It will be long — the injuries are severe. But his condition is headed in the right direction," Wylie told CNN. (The Cable)