May 29: I will not forget anything in Ebonyi Gov't House – Umahi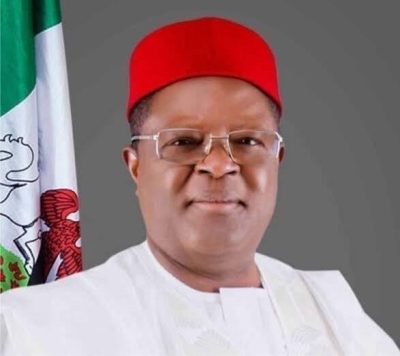 Gov. David Umahi of Ebonyi has said that he will not forget anything in the state Government House when he leaves office on May 29.
Umahi said this on Wednesday at a civic reception held in his honour at Uburu, his home town, in Ohaozara Local Government Area.
The event was organised by constituents from Ebonyi South Senatorial District to celebrate his successful tenure in office as governor.
He said that he was leaving office a fulfilled man.
"I thank all those who made my tenure successful and urge you to extend similar support to the incoming administration.
"The incoming administration is not different from the present one as we all belong to the divine mandate platform.
"When I return from my journey at the Senate, we will still gather in praise and appreciation to God for his goodness," the governor said.
He said that he was going to the Senate to represent the entire state rather than only his constituency.
"We have laid the foundation for development, peace and unity of the state.
"I cannot thank God enough because all the miracles wrought on the state were through his power," Umahi said.
The Chairman of the event and former senator representing the district, Sen. Sonny Ogbuoji, said the people were proud of the governor and heartily welcomed him back.
"Umahi brought no shame to us but glory as the message we sent him was fruitful.
"You are not coming back to stay indoors but to go to the higher chamber of the National Assembly," Ogbuoji said.
He said that Ebonyi would not forget Umahi in its history because he achieved development feats, no past governor had achieved.
"We know that having conquered as a governor, the challenges of the senate will be easier to handle.
"I am talking as someone who had been there and we still look forward to receiving you again after your senate sojourn," he said.
The News Agency of Nigeria (NAN) reported that other stakeholders from the area commended Umahi for the successes recorded by his eight-year administration.
The Traditional Rulers Council in the area conferred on him the title of "Dike di oha mma" (The hero in whom the people are well pleased) of Ebonyi south district.