Napoli refuses to apologise to Victor Osimhen, says video calling him 'coconut head' joke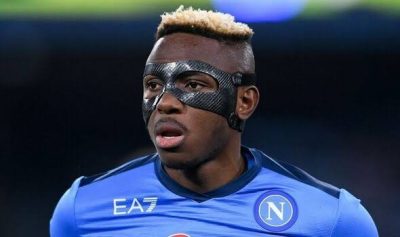 Serie A side Napoli said the club did not intentionally want to mock their "treasure" Victor Osimhen over a controversial video posted on TikTok in the aftermath of last week's draw at Bologna in which the striker missed a crucial penalty.
"Calcio Napoli, wishing to avoid any exploitation of the issue, point out that we never wanted to offend or mock Victor Osimhen, who is a treasure of this club," the club said in a statement on Thursday, denying any deliberate attempt to mock Osimhen.
The now-deleted video the club posted on its official TikTok account had shown the Super Eagles forward wanting to play the penalty awarded to them at the expense of others but only to end up missing the spot kick.
Another controversial video posted earlier contained photos of Osimhen's head, with a voiceover saying, "I have a coconut head." The video has since been deleted too.
In response to those videos, Osimhen and his camp were not pleased with the treatment of the player, and his agent released a statement condemning the club's actions and threatened to take legal measures while the player purged his Instagram page of pictures where he was wearing a Napoli's shirt.
Meanwhile, Napoli maintained Osimhen is a valuable asset of the club, and that is evident from the fact that the club blocked every transfer offer made to sign the player during the summer transfer window; TikTok, in particular, is known for creating lighthearted content.
"As proof of that, during the summer training retreat, the club firmly rebuffed every offer that was received for the striker's transfer abroad.
"Social media, in particular, TikTok, has always used an expressive form of language with a light heart and creativity, without wanting to, as in the case with Osimhen as protagonist, have any intention of insult or derision.
"In any case, if Victor perceived any offence towards him, this was not what the club intended," Napoli said.