Nigeria Ripe For Female President – Obasanjo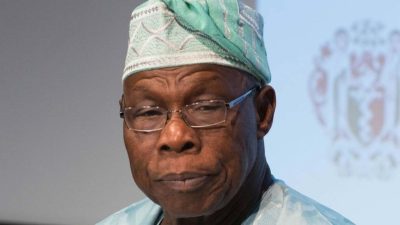 Former President, Olusegun Obasanjo on Thursday, advocated for a female presidency in Nigeria.
He spoke at the 5th edition of the Egba Dialect Debate and Choral Competition for Secondary Schools in Ogun Central Senatorial District, in Abeokuta .
The event which featured a debate session with the theme: "Nigeria is ripe for a female president", was organised by the Pro-Chancellor of University of Lagos, Dr. Lanre Tejuoso.
In his remarks, Obasanjo said he supported the motion, saying the female folks should be given a trial.
According to him, it's only when power is being passed and shared equally among both genders, will the country stand strong again and develop.
Obasanjo said, "From my own view, if we want the country to grow, we should consider both genders, because a hand can't carry a load to the head alone.
"You can do it as you want, but it should be done as it is supposed to be, we can gain experience from both genders, what's the difference between the genders? Only that the female can get pregnant for nine months and a male can't. That's the only difference in us.
"As for me, there's nothing preventing the female gender to be the president of our country."
Corroborating Obasanjo , the deputy governor of Ogun state, Naimot Salako-Oyedele, also called for the need to bring in females into politics.
According to her, only few females are in power in the country, adding that same is applicable to Ogun state.
She said, "We can't give someone power, it has to be fought for, and we have to start bringing female into politics, even if it's from the grassroot level, so that they can gain enough experience to lead the country.
"If she can start from being a councillor and we see that she's capable, then, she can move to the next level.
"In Ogun state, we have 236 councillors but only 18 are females, we have 20 Chairmen, only two are females among them, we have 26 seats in the house of Assembly, only two are females, house of representatives, we have nine, one is female, we have three senators, no female and we have the deputy governor who is also a female."
Salako-Oyedele who represented the governor, applauded the promotion of the indigenous language, adding that the state is also doing everything to promote the Yoruba culture.
She added that the state government is supporting the Yoruba cultural center that is being proposed in the university of Ibadan, to boost the indigenous language.
She said, "We are very proud to be associated with this programme in Ogun state, the language is generally accepted as an expression of culture and it's a window to people. This culture is very rich and we believe our children, through this type of programme will identify the richness of our culture.
"Many children don't speak Yoruba not to talk of their dialect but with this kind of programme, it will bring interest into speaking Yoruba.
"We will support every individual who wants to promote the Yoruba culture. We as Ogun state are supporting the Yoruba cultural center being proposed in the university of Ibadan, which is going to be a resource center which is going to be accessible all over the world ." (Daily Trust)