Portable Is My Boy, Says Small Doctor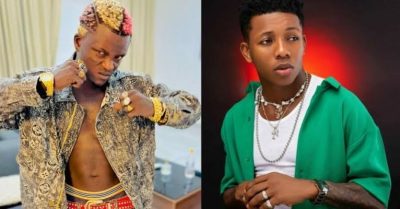 Nigerian Afro-pop singer, Temitope Adekunle, aka Small Doctor, has described controversial singer Habeeb Okikiola popularly known Portable, as his boy.
In an interview with the Echo Room, Small Doctor gave reasons why Portable left his house after making fame.
He said the the Zazu conner fled after being advised to do a body wash.
"When he met me, I told him that he has to do body wash to look good but he disagreed because he believed I want to use packaging to kill him. I continually advised him to stop doing like a tout, and dress properly. Portable has been my boy since 2018 when he has been attending my concert," he said.
On what led to their discord, Small Doctor stressed, "DJ Spirit had called me that day that he has an artiste, Portable that he wants me to jump on his song (Zazuu). I was surprised to see that my conversation with them on social media which attracted calls from several people including my manager.
"A few days later, my DJ told me that Olamide and Pocolee has featured in the song and I was surprised to see that there was an artwork for the song already. I was happy to see that because I know that their prestige will help boost the song and it blew
"After Portable became a superstar with the song, I convinced him on severally to set up a music camp and it was there he wrote the songs 'Clear' and 'neighbour' for him.
"Portable insisted that I be on one of them for him since I have been helping him all along so I chose the 'neighbour' track."
Daily Trust recalls that Portable slammed Small Doctor for losing his fame in the industry and that his last hit track "Neighbor" was from him.
He further alleged that the singer once sent thugs after him. Portable, however, rained heavy curses on Small Doctor while stating that he tried to use him to make a name for himself.