Northern Groups Tackle Osinbajo Over Naira Devaluation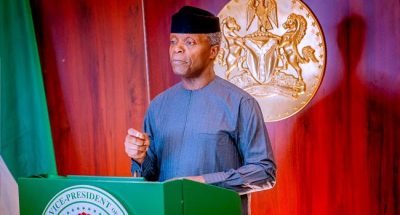 Northern Groups under the Coalition of Northern Youth Groups (CNYG) have called on the Vice President, Yemi Osinbajo, to drop the idea for the devaluation of the naira and allow the Central Bank of Nigeria and other sister agencies to keep doing what they can to help the economy.
 The groups said President Muhammadu Buhari should encourage the position of the CBN Governor, Godwin Emefiele, not to devalue the naira, but instead create ways that would strengthen the currency for the benefit of the country.
 A statement issued in Kaduna by the coalition convener, Mallam Yusuf Amoke, warned that further devaluation of naira would create more poverty in the country.
 "We shall not allow anybody to use his or her office to project unpopular policies that will plunge Nigerians into further poverty; the one the masses are faced with is enough.
"Further devaluation of naira means more poverty, more insecurity, more restiveness and more death in the land. We say no to the devaluation of the naira," he said.