Obasanjo Is A Cowardly Bully, Verbal Attack On Oyo Monarchs Unwarranted, Insulting —Senior Advocate Of Nigeria, Owonikoko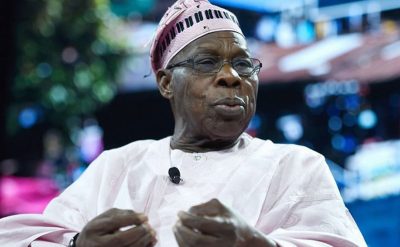 A senior lawyer, Abiodun Owonikoko has taken a swipe at former president Olusegun Obasanjo for asking traditional rulers in Oyo State to stand and greet him at an event in Iseyin last Friday.
Obasanjo, who was invited by the governor to inaugurate the Oyo–Iseyin Road project, was seen in a viral video berating the monarchs for not standing up to acknowledge his presence and that of his host, Oyo State Governor Seyi Makinde, at the ceremony.
The former president, who spoke in Yoruba, described their action as disrespectful.
"I greet the kings and chiefs here sitting; I am grateful that you are here. Let me say this: wherever the governor is or the president, the king has to stand up. Stand up," he ordered.
Reacting in a statement, Owonikoko branded the action of the former President as disrespectful.
He described Obasanjo as a cowardly bully, adding that his behaviour demeaned the Yoruba culture and tradition.
The senior lawyer wrote, "Baba Iyabo is a cowardly bully. I am also a proud son of Iseyin. There is presently no Oba in Iseyin; the last king joined his ancestors last year. He was until his passing the Vice Chair of the Oyo State Council of Obas. A new one was only selected and announced last month.
"He is awaiting installation and coronation. Obasanjo bought a huge farmland in the town adjoining the famed Ikere Godge Dam while he was still a sitting President. I hope he remembered to declare that multi-billion naira accretion to his net worth in his declaration of assets to the Code of Conduct Bureau when he left office as President in 2007.
"I watched the vexatious event in the video footage live on TVC television this afternoon and saw in Obasanjo, a bully at work. Iseyin people are very restrained people but if provoked to anger would wait for the right opportunity to extract their pound of flesh. They like to stoop to conquer.
"They led the first colonial era uprising against British oppressive rule in Nigeria in 1916. The then Aseyin and his chiefs were publicly executed by hanging at the king's palace square by Lord Lugard's government to serve as a deterrent to other indigenous communities minded to challenge colonial oppression.
"That was 14 years before the more celebrated Aba Women's riot of 1929. I wasn't in the least amused seeing Obasanjo doing his immature drama to impress his imperial presence on the local populace awed by his presence that no doubt was well appreciated. It's in his character to play the vulture over vulnerable prey that he cannot himself game or subdue.
"He was earlier in the day at Oyo Alaafin to Commission the Oyo- Iseyin Federal Road that Governor Seyi Makinde reconstructed- I did not as I can recall, hear him excoriate the chiefs seated at that event, even though there is no reigning Alaafin of Oyo as is the current situation in my home town iseyin. I guess some people just can't live with the fact that they can't be President of Nigeria for a third term." (SaharaReporters)