Presidency 2023: Is Akinwunmi Ambode North's Trump Card?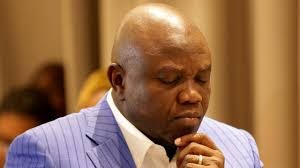 President Muhammadu Buhari's foggy succession plan is spawning speculations of an unlikely dark horse from the South-West – backed by the North.
Unassuming former Governor Akinwunmi Ambode of Lagos State quietly fits the scenario, writes Louis AchiWith the Independent National Electoral Commission's scheduling of February 18, 2023, for the presidential election, the jostling – both overt and covert – of who should clinch the ruling All Progressives Congress (APC) ticket and eventually succeed President Muhammadu Buhari is gaining momentum.
The opposition Peoples Democratic Party (PDP) is not left out of the unfolding intrigues too. Significantly, in all the permutations so far, no augury has whispered the name of the unassuming former Governor Akinwunmi Ambode of Lagos State as a likely successor of Buhari. Even in the oracle of Minna, former head of state Ibrahim Babangida's recent 'list' of potential Buhari's successors, Ambode wasn't captured.
There are no indications that the national leader of APC, Asiwaju Bola Tinubu, is willing to confine himself to his famed kingmaker's role. Feelers indicate he wants to go for the coveted diadem and become king himself – not an illegitimate aspiration. When ex-Governor Babatunde Fashola was recently asked whether he would support Tinubu's rumoured 2023 presidential bid, he was non-committal: "I saw him last week. He didn't tell me he is running for office, and to the best of my knowledge, the last statement he made on it is that people will know in January."
More, in the South-West, ambitious young Turks both beholden and not – to the Aswaju – lurk. Given other forces equally eying the pie plus regional contentions, the personality that would become APC's presidential flag-bearer in the 2023 election is unknown. But barring any unforeseen Machiavellian tweaking, it seems a settled matter that the APC would zone the presidency to the South.
The party's national chairmanship would then go to the North because Buhari would have exhausted North's eight years by 2023. Perhaps, not many Nigerians understand that not wielding political power equates to an existential threat to caliphate northern Nigeria. An understanding of this fundamental point would grant substantial insight into how the region conducts its political gaming.
insight would prod many analysts to reassess largely specious assumptions that Tinubu would be served the 2023 pie on the grounds of some foggy, prior succession deal with Buhari.In effect, where the North stands in the big picture is a huge determinant of who becomes the next president.
What is Tinubu's standing with the Northern hawks today? Just like Tinubu, the North is also a critical kingmaker. More, in the numbing security crisis and extreme bloodletting in the last six years, what has been Tinubu's expressed position. Beyond his extremely deep pocket, being perceived as sitting on the fence or appearing timid given the clout he parades would hardly recommend or endear him to the public.Another point that may undermine Tinubu's strongly staked claim to succeed Buhari is his health.
With the nation's harrowing experience of Yar'adua's ill-health and Buhari's frequent health excursions abroad, many Nigerian are nervous about having a new president that cannot frontally face the enormous governance challenges that come 2023.
Without dispute, the challenges are glaringly tough. Perhaps not many would support a sick president. The clear audacity and courage Tinubu displayed some 12 years ago are missing currently. The forgoing nuances undergird the guiding calculations of the North ahead of 2023. Erstwhile Tinubu protégés like Fashola, Governor Kayode Fayemi of Ekiti, and other Turks are now covertly transmitting on different political frequencies from the Asiwaju. It is speculated that astute northern forces are plotting to use the new Turks to unhorse Tinubu. Governor Rotimi Akeredolu of Ondo is thought to be another power base that would work against Tinubu because he preferred his protégé, Dr. Olusegun Abraham.But another emerging, quiet-spoken, demonstrably effective, and subtle political personality from the zone is Ambode.
His being partially off theradar positions him to evade hostile forces in his environment in the interim. With a hugely promising governance trajectory apparently halted mid-stride by the quaint godfather of his political realm, Ambode, from feelers, is willynilly, entering a crucial phase of his political odyssey with head held high.Ambode has demonstrated that he is a personality and leader not swayed by extraneous emotionalism and parochial cant.
This footing, many speculate, put him on a collision course with Tinubu. But he remains driven by principle. After dispatching the opposition PDP's mettlesome Chief Jimi Agbaje in the keenly contested April 12, 2015 governorship election, Ambode hit the ground running. As governor of Nigeria's commercial and industrial mega-city, faced with the challenge of satisfying the yearnings of Lagos 20 million residents, it couldn't have been otherwise.
Drawing from his rich professional background as an accountant, administrator, and public finance management expert and leaning on a vision to make Lagos a clean, secure, more prosperous state, the Epe-born dynamite left few in doubt that he is indeed the man the city needed.
He wielded power and is still deploying his influence with alluring humility and exemplary focus. With his life's trajectory, he has demonstrated that faith, public finance management, administration, and politics fundamentally address the transformation of the human condition for good. Lagosians certainly will not forget in a hurry the transformative leadership he brought in his phenomenal four-year tenure.
During this challenging period, he never borrowed money to fund development. He rather worked hard to generate revenue.Against unproven allegations of being impetuous and adversarial, the emergence of Ambode as Lagos State chief executive evokes memories of other progressive eras of the state.
His choice then simply acknowledged the capacity of focused individuals to change their society for the better. For decades, as an accountant, administrator, and public finance management expert, he has provided clear, pragmatic leadership. Even after the untidy truncation of his governorship trajectory by Tinubu, like the true gentleman he is, he unstintingly supported his party and political successor. He has since then remarkably carried himself with exemplary dignity, an unusual footing for contemporary politicians.
Perhaps these consistent qualities have kept him on the radar of the ruling party's top hierarchy. A little over six months ago, Ambode was appointed by APC into its Contact/Strategy Committee. It's then not surprising that he has quietly become a key leadership target of the circumspect king-making North.
An unwavering sense of loyalty and duty, rigorous professionalism, stern discipline, demonstrable integrity, and almost a child-like faith in his beloved God stand him out as a leader for higher responsibility.Ambode attended St. Jude's Primary School, Ebute Metta, Lagos State, from 1969-1974, where he sat for the National Common Entrance Examinations. From 1974-1981, he attended Federal Government College, Warri, and from 1981-1984, he attended the University of Lagos, where he studied Accounting, graduating at the age of 21.
Also has a Master's degree in Accounting from the University of Lagos and is qualified as a chartered accountant. He was awarded the Fulbright Program scholarship for the Hubert Humphries Fellowship Programme in Boston, Massachusetts. He also attended the Wharton School of the University of Pennsylvania for Advanced Management Programme. Other institutions he attended courses and programs include Cranfield School of Management, Cranfield, England, the Institute of Management Development, Lausanne, Switzerland, INSEAD, Singapore.
He also attended the John F. Kennedy School of Government at Harvard University, Cambridge, US.His civil service career was remarkable. From 1988-91, he was the assistant treasurer, Badagry local government, Lagos State, Nigeria. In 1991, he was posted to Somolu local government area as an auditor. He has also held the position of council treasurer of the local council later.
He previously served as Alimosho council treasurer. In 2001, he became acting auditor general for Lagos local government areas. In January 2005, Ambode became the permanent secretary of the Lagos State MiniyAchof Finance.From 2006-2012, he was the state's accountant general in charge of all the financial activities of the state and was directly responsible for over 1400 accountants. Under his watch, the State Treasury Office (STO) revolutionised how Lagos finances were raised, budgeted, managed, and planned. In his six years the Lagos State accountant general, the state's financial performance improved visibly, with the budget performing at an average of 85 per cent annually.After 27 years in the civil service, he oluntarily retired in August 2012. He subsequently founded Brandsmiths Consulting Limited to provide Public Finance and Management Consulting services to the government at all levels, its parastatals, and agencies. In 2013, he founded the non-profit La Roche Leadership Foundation. Its goal is to install Nigerian and Lagos flags in all government-owned schools in the state. In 1991, Ambode married the love of his life, Bolanle Patience Odukomaiya.
They are blessed with lovely twin children. In all his life's challenges, a calm philosophical Ambode has taken things in his stride as he focuses on the next phase of his life. Such is the measure of the vigorous 58-year old teacher's son. Ahead of 2023, he is a definitive dark horse of the South-West – and still shrouded in secrecy – arguably the North's trump card.
*Written By Louis Achi