Second Niger Bridge to be commissioned in December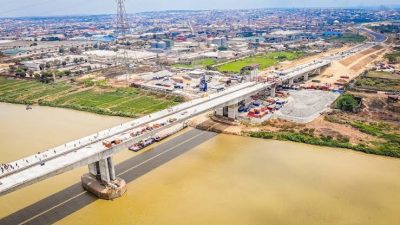 Acting Federal Controller of Works in Anambra State, Seyi Martins, has promised that the second Niger Bridge will be ready for use by December this year to ease movement into the South East.
He gave the assurance when he hosted members of the Council for Regulation of Engineering in Nigeria (COREN), who paid an inspection visit to the site in Onitsha, at the weekend.
Martins said the bridge, which is about 1.7 kilometres parallel to the existing one, has a dual carriageway with three lanes on both sides, measuring about 1.6 kilometres in length, while the total length of the project is 11.9 kilometres, clarifying that work on the gateway had reached 95 per cent completion.
The controller revealed that first phase of the project – the bridge proper – had been substantially completed, while the final asphalt surfacing on the Asaba-bound carriageway lane is the only part left.