T.Y Danjuma donates $1.36m to UI college of medicine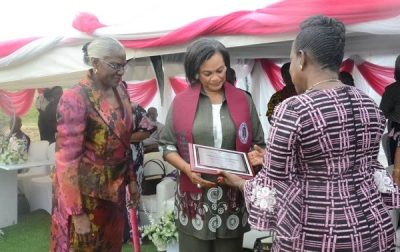 A former Nigeria's Chief of Army Staff, Lt. General Theophilus Danjuma, has donated a total of $1,363,108.43 to the College of Medicine, University of Ibadan (CoMUI) to build hostel for students.
The donation made through the T.Y Danjuma Foundation, was in response to an earlier request by the College towards the realissation of the student hostel building project.
The sum, which will be used to build the Block D of the hostels is said to be the highest donation so far by an individual to the course of the project.
The Provost, CoMUI, Professor Olayinka Omigbodun made the disclosure during a joint press conference organised by the College of Medicine, University of Ibadan and the Ibadan College of Medicine Alumni Association (ICOMAA) shortly after the turning of sod of the hostel facility to be built with the donation.
The donor was represented at the Sod turning ceremony by his wife, Senator Daisy who was accompanied by her sisters, Mrs. Vicky Falope, a former permanent secretary to the Oyo State Government, and Dr. Edugie Abigail Abebe, a former federal Permanent Secretary.
Address journalists, the Provost, flanked by s Co-Chair of the Project Building Committee, Prof Gbemisola Oke and Deputy Provost of the College, Prof Adefatai Adeniyi, explained that the envisioned 280-room hostel, encompassing blocks A, B, C, D, E, and F, alongside a utility building, is designed to house a total of 664 students.
Building the hostel, she noted, was critical to the re-accreditation of the College of Medicine, University of Ibadan by the Medical and Dental Council of Nigeria (MDCN).
She added that the project which is in partnership with the Ibadan College of Medicine Alumni Association Worldwide (ICOMMA WW) is an alumni-driven initiative which is ongoing in phases.
Narrating how tough and difficult it had been to get the project to its current level, Prof Omigbodun said the donor has showed again his love and passion for the good of the ordinary people calling on others to emulate him.
She said, the donation will be towards the building of an entire building out of the six that forms the entire project.
Also in their separate remarks, the President ICOMAA Worldwide, Prof Emmanuel Otolorin and a Platinum donor, Dr Modupe Sokunbi who joined the press conference online thanked General Danjuma for the donation and support towards the actualisation of the project.
They lamented that although there are many individuals in the country with the means and wherewithal to help actualize the project but accessing and reaching out to them had been very difficult.
The duo appealed to other individuals to come to the aid of the College of Medicine to ensure the timely completion of the project urging then to take a cue from the retired Army boss.