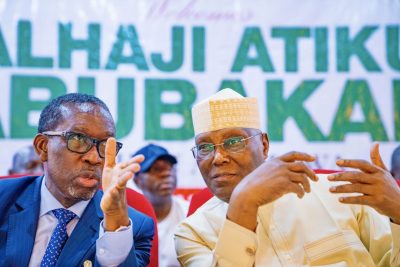 The 2023 presidential candidate of the Peoples Democratic Party (PDP), Atiku Abubakar, has withdrawn from participating in The Candidates Presidential Town Hall debate.
Televised on Nigerian Television Authority (NTA), the presidential town hall series feature presidential candidates and their deputies answering questions on national issues while discussing their plans and visions for the country they aspire to lead.
Mr Atiku and his deputy Ifeanyi Okowa, originally scheduled for Tuesday night, would not be participating at the debate due to "unavoidable conflicts".
In a Tuesday tweet, NTA announced that "Due to unavoidable conflicts, Alh. Atiku Abubakar and his running mate, Dr Ifeanyi Okowa of the People's Democratic Party, will not be participating in The Candidates Presidential Town Hall Series."
Omoyele Sowore of the African Action Congress (AAC) and his deputy, Peter Obi of Labour Party and his deputy Ahmed Baba-Datti, have all featured in the town hall series discussing their ideas and vision for the country.