Tinubu Roars Back, Says He's Fit and Ready to Serve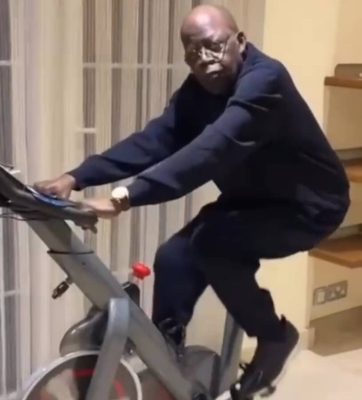 Presidential Candidate of the All Progressives Congress (APC), Asiwaju Bola Tinubu, says he is alive and kicking.
Tinubu's whose absence at some recent important events, especially the peace pact, has generated interest, also dismissed the rumour that he is unhealthy.
He posted a short video of himself on a thread mill and wrote: "Many have said I have died; others claim I have withdrawn from the presidential campaign. Well… Nope. This is the reality: I am strong, I am healthy and I am READY to serve Nigerians from Day One."
Amid the storm over Tinubu's absence, Ayo Oyalowo, a member of the APC Presidential Campaign Council, had said the presdiential candidate was resting in London.
Speaking on an ARISE TV Programme, Oyalowo said, "Asiwaju Bola Ahmed Tinubu is in London. He cannot rest in Lagos, they will not let him rest. He came to Abuja most of the time, and they will still not let him rest. This man has been working for an average of 20 hours in the 24 hours in each day. So reasonable people thought he should leave the country because people will not let him rest since the campaign is coming soon.
"The invitation for the peace accord came after Tinubu left the country. Even his running mate, Senator Kashim Shettima, was not in town, he had to leave what he was doing in Maiduguri."