'We didn't make mistake electing him' — Wike lauds Tinubu on petrol subsidy decision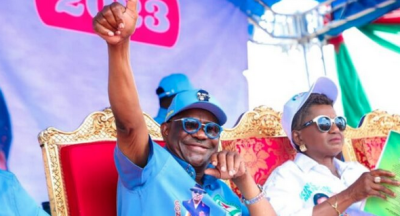 Nyesom Wike, former governor of  Rivers state, says the decision of President Bola Tinubu to remove petrol subsidy proves that "we didn't make mistakes" electing him. 
Wike spoke in an interview with Channels Television on Tuesday.
During his inaugural speech on May 29, Tinubu declared that "petrol subsidy is gone".
The president's pronouncement led to a resurfacing of queues at petrol stations and a hike in the pump price of the product across the country.
The decision has generated mixed reactions among Nigerians while the Nigeria Labour Congress (NLC) and Trade Union Congress (TUC) threatened to embark on a nationwide strike.
The labour unions demanded that the federal government revert to the old pump price of N185 per litre.
Although the unions suspended the planned mass protest and strike, the government has not reversed the pump price.
Speaking on the issue, Wike said Tinubu showed "leadership" with the declaration, describing the decision as "A-rated".
"The first steps you take show if you are a good dancer or not. He has shown leadership. The first day he took the oath, and he said, 'We must tell ourselves the simple truth,'" he said.
"How many presidents can make that kind of decision? For me, that is leadership, and it shows that he is prepared for the job. It is a hard decision, but you have to take it.
"For me, I felt so happy that we didn't make mistakes and that this is the kind of leadership we want in this country.
"That is why some of us have said Nigerians should give him a chance. For me, the decision is A-rated." (The Cable)