We'll provide cash for your logistics… CBN won't be used to frustrate polls – Emefiele tells INEC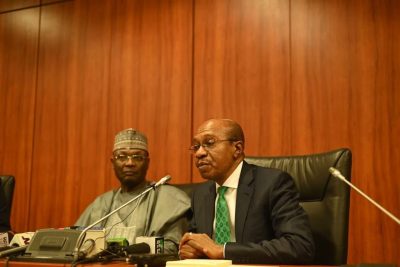 Godwin Emefiele, governor of the Central Bank of Nigeria (CBN), says the CBN will not be used a means to frustrate the forthcoming general election.
Emefiele spoke on Tuesday during a meeting with Mahmood Yakubu, chairperson of the Independent National Electoral Commission (INEC), at the CBN headquarters in .
The meeting comes amid concerns over the current naira scarcity.
Speaking at the meeting, Yakubu said while service providers needed for elections are generally paid by electronic transfer, there are critical areas such as transportation and emergency situations where cash payments will be required.
"In view of the recent policy involving the redesign of some denominations of our national currency, and the limits placed on cash withdrawals and availability, we consider this meeting important in addressing some of the areas of concern with just 17 days to the 2023 general election," he said.
"We are confident that arising from this meeting, we can assuage the anxiety expressed by some of our service providers.
"We're determined to make the 2023 general election one of the best organised elections in Nigeria but we cannot do it alone."
Responding, Emefiele said the CBN remains committed to supporting INEC towards ensuring credible polls.
"Just a few months ago, I visited your office and you raised the issue of how foreign exchange can be procured for you to import other forms of election materials that needed to be imported," he said.
"And I gave you my word that foreign exchange will be provided for that purpose. I sit here to confirm that as at today, not one dollar is owed. All dollars needed to procure those materials have been provided.
"Now, this issue of paying logistics for people who are going to be transporting election materials to wards, certainly I give it to you that because we regard the INEC project as an urgent national assignment, it cannot fail.
"The central bank will not allow itself either to be used or to be seen as an agent that frustrated positive outcome of the election.
"I give you the commitment that if in this case, after making your electronic payment you require some money to pay transporters, in this case cash, we will make it available.
"I will make sure that we will not allow ourselves to be seen as an agent that frustrated a positive outcome of the election." (the Cable)