State of the Union 2023: Biden urges Congress to finish economic fightback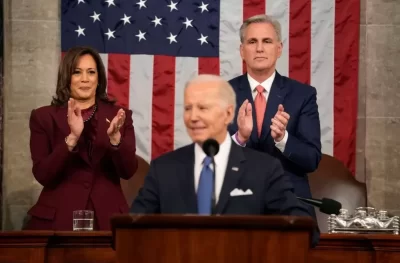 US President Joe Biden called on Republicans to help "finish the job" of delivering for hardworking families, in his annual State of the Union address.
The Democrat stressed the importance of bipartisanship to a divided Congress where the lower chamber now has a Republican majority, reports the BBC.
He also vowed to defend US sovereignty in the wake of an incursion by an alleged Chinese spy balloon.
The speech was seen as a roadmap for a widely expected 2024 re-election bid.
Biden's 73-minute address came as his public approval rating hovers near the lowest level of his presidency.
The opposition party delivers a response to the president's State of the Union every year. On Tuesday night, the Republican rebuttal was given by Arkansas' governor, who accused Biden's government of being more preoccupied by "woke fantasies" than "the hard reality Americans face every day".
Biden delivered the address to a packed chamber and high-profile guests – including U2's Bono – as well as Supreme Court justices.
Over the president's shoulder at the rostrum in the House of Representatives was one of his most vocal critics, the Republican Speaker Kevin McCarthy.
Biden extended an olive branch to the opposition party, which took over the lower chamber of Congress last month with vows to investigate the president's family and Cabinet.
"To my Republican friends, if we could work together in the last Congress, there is no reason we can't work together in this new Congress," said the president, who has previously been accused by his opponents of divisive rhetoric.
"We've been sent here to finish the job!" he added.
Biden also said that two years after supporters of his predecessor Donald Trump rioted at the US Capitol, America's democracy was "unbowed and unbroken".
As sometimes happens in State of the Union speeches, the president was at points heckled by opposition lawmakers.
Biden made minimal reference in the 7,200-word speech to the foreign policy imbroglio that has gripped the nation in recent days: a suspected Chinese surveillance balloon that crossed US territory before the American military shot it down off the coast of South Carolina last weekend.
The president said he was committed to working constructively with China, but cautioned: "Make no mistake: as we made clear last week, if China threatens our sovereignty, we will act to protect our country. And we did."
Republicans have been demanding to know why Biden waited a week to act. The president's administration has said it wanted to avoid risk to civilians from falling debris.
Biden's speech was light on foreign policy in general, with Ukraine – the main topic of his 2022 State of the Union in the wake of Russia's invasion – getting a mention towards the end of this year's remarks. Biden reiterated that the US would stand with Kyiv "as long as it takes".