What Tinubu should do to Nnamdi Kanu on assumption of office – Soludo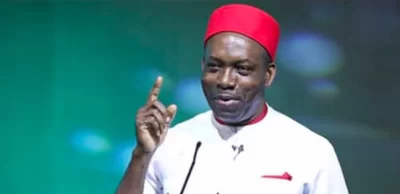 Anambra State Governor, Prof. Charles Soludo has begged president-elect, Asiwaju Bola Tinubu to immediately release detained leader of the Indigenous People of Biafra (IPOB) immediately he is sworn-in as president on 29 May, 2023.
Soludo, in a statement on the conclusion of the 2023 general elections, congratulated Tinubu for his election.
"We congratulate your closest opponents for their courageous and impressive outing. Nigeria needs healing and restructuring, and the fundamental challenges of insecurity and the economy remain humongous.
"We pledge to collaborate and partner with you and the Federal Government for the development of Anambra state and Nigeria. This is the only country that we call ours and we must make it work," he said.
Soludo drew the attention of Tinubu to the issue of systemic insecurity in the South East, saying that while government's efforts with the security agencies were yielding significant results, he believed that sustainable peace and security would be enhanced through wider non-kinetic engagements with all critical stakeholders.
"In this regard, may I repeat my previous calls and hereby request our President-Elect to release Mazi Nnamdi Kanu immediately after swearing-in (that is, if he is not released before then).
"We need him around the table as an important stakeholder in discussions about healing and sustainable peace in the South East," he appealed.
Soludo, however, commended INEC for the successful completion of the general elections, saying "it is important to note that we must seriously continue to reform and strengthen our electoral processes and citizens' political participation as we march towards a more perfect system.
"To me, the true heroes of the last elections are the citizens of Nigeria, especially the youths, whose voices will continue to be critical as we collectively strive to build a new Nigeria. Nigeria is the winner, and I am confident that a better future lies ahead of us. Congratulations to all Nigerians," he said.