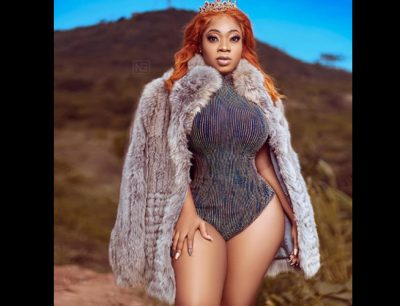 Ghanaian actress, Moesha Boduong, has apologised to African women, for offending their sensibilities following her interview with Christiane Amanpour on CNN.
Boduong said she had learnt a lot from her mistakes and from her utterances which might have belittled hard-working Ghanaian women.
She also said she appreciated the criticisms and advice from people who had reacted to the viral video.
However, the apologetic Moesha said that the full video of the interview will be out by the weekend and people will get to understand what she really had in mind.
She wrote,
"Dear Ghana, this is Moesha. I have been humbled by all that is going on and I have also learnt a lot in the last few days since the CNN video came out. I have had a lot of time to think and reflect and I apologise to all especially my African Sister.

"I pray you all find it in your hearts to forgive me. It was definitely not my intention to offend any of you. I respect all the hard-working women of our beloved country and accept that some of my utterances were not a reflection of what happens in most homes. God works in mysterious ways and everything happens because he says so.

"Thanks for the love, pieces of advice and criticisms. God bless us all! The full version of the interview drops this weekend and I hope you can appreciate what I said in its entirety. Thank you. God bless you all!"
Moesha Boduong became the subject of ridicule after she appeared in the new series of Christiane Amanpour's Sex & Love Around the World, where she claimed, women need men to survive and have a comfortable life.
See her post: