Why I'm celebrating my 27th wedding anniversary, hubby's birthday – Omotola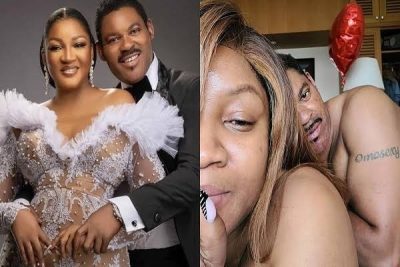 Popular Nollywood actress Omotola Jalade-Ekeinde is over the moon. And she has set the internet on fire, tongues wagging and fans gushing as she celebrates not just her 27th wedding anniversary but also her husband Matthew Ekeinde's birthday.
It is indeed double celebration for the curvaceous actress popularly known as Omo Sexy and she has every reason to celebrate it in her own way.
Omotola took to her Instagram account on Thursday 23 March to mark her wedding anniversary as she celebrates her husband, expressing her love for him and her commitment to the union in a very unique way.
She shared a photo that elicits emotions she had taken with her husband whom she referred to as My forever Honeyboy, as she wished him happy birthday.
In the message that she penned alongside the photo, Omotola who is one of the most popular actresses on the African continent stated why she has every reason to celebrate her wedding anniversary and her husband.
She captioned it: Happy Birthday my Forever HoneyBoy
And…
Happy Anniversary to us,
27 years and we only just about to get into phase 2!
Last kiddo now 21….no more PG
uilty
Ready Love? Love you endlessly.
Indeee Omotola has every reason to celebrate her wedding anniversary. As she stated she and her husband are about entering the second phase of their marital life, having been married for 27 years and their last child is 21. According to her, her children are so mature there is no more Parental Guidance, PG.
And she also expressed her endless love for her husband and commitment to the union.