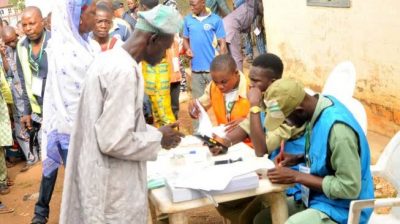 Members of the Peoples Democratic Party (PDP) in the United Kingdom have called on the parliament and other foreign agencies to monitor Nigeria's general election holding in February. 
In a petition signed by Osahon Igiebor, its chairman, The PDP UK said this became important because of the "continued harassment" of members of the opposition.
Calling on the UK government to send an election monitoring team, the group also asked President Muhammadu Buhari to sign the electoral amendment into law.
"We are calling the attention of The UN, The National Democratic Institute, The OSCE Office for Democratic Institutions and Human Rights, The European External Action Service and The Westminster Foundation for Democracy to the spate of inconclusive election results from INEC and the use of the police and other state security agencies by the APC government to manipulate the elections in Nigeria either by intimidation or by force," the petition read.
"The APC government has incessantly hounded key members of opposition parties using state security agencies to harass and persecute the voice of opposition which could be better served combating insecurity and other challenges plaguing the nation at this time.
"Freedom of expression has to be encouraged and allowed to thrive, the detention and arrest of
bloggers and other vocal activists who are critical of this APC government is akin to dictatorship and should alert the international community to the ruling party's intent in the forthcoming elections.
"We urge every Nigerian to prevent the systematic rape of the democratic process in Nigeria and encourage all our fr
"We call on the President to sign the amended electoral act into law if indeed he intends to allow a free and fair election come February 2019." (The Cable)