Toke Makinwa Does Not Regret Being Barren At 38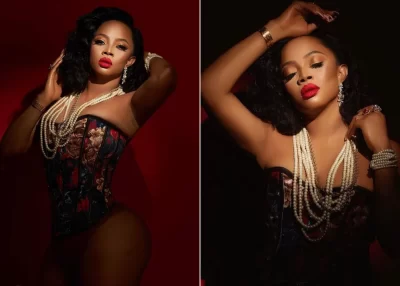 Nigerian media personality, Toke Makinwa has disclosed that she does not regret being barren at the age of 38.
Toke during her latest show, 'Toke Moments' said she is been pressured about childbearing and some of her friends had wished she had a child with her ex-husband, Maje Ayida.
According to the 38-year-old, many of her friends suggested that having a child before her marriage crashed would have been an achievement as it would have been ticked off her bucket list.
Toke Makinwa noted that not having children with her ex-husband was a decision because she didn't want to have a child with different siblings adding it was a whole complex situation.
In her words:
"I feel like I'm stuck in a phase where society is putting so much pressure on me right now.
I don't regret the fact that I haven't had any kids, I don't.
Also, I honestly don't.
I feel like I was in my building years, and if I had had a baby, I'm not saying I wouldn't have been able to do it, but I also feel like I needed to put everything into building.
And now, I can welcome that."
Toke Makinwa Speaks On Pressure From Family
The media personality continued,
"So when people, cuz I have a lot of friends who are like "oh I wish you had just done that in your marriage, cuz if you had just done that, it would have been something you would have just checked off the list.
I've done it and moved on.
And sometimes, I find myself thinking "Ah, maybe should I have" but then when I really think about it."
"For me the biggest thing in that situation was I just, I don't think I wanted to have like my child having siblings in different [places].
It was too complex.
Like if it was just straight forward, then I would have been like sure, no worry, we can co-parent.
But then there are other children and at some point you can't be selfish about not letting your kids not meet their other siblings. It's just a whole complex situation.
So I know what I want."