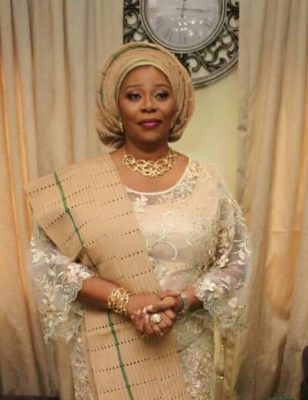 Barrister Toke Benson Awoyinka has  declared her  intention and desire to represent the people of Ikeja Federal Constituency at the Federal House of Representatives in 2019 on the platform of the All Progressive Congress party.
Benson Awoyinka declared following her dismay and sadness at the "poor level of representation of the people of Ikeja Federal Constituency resulting in Political and Economic neglect of the Constituency, as a result of an absentee Representative afflicted with the most glaring of conflict, divided attention and unashamed abdication of responsibility to the constituents of Ikeja Federal Constituency; noting his service to our people as Council Chairman for two consecutive terms of 6 (six) years, a single term of 3(three) years as Executive Secretary in Ojodu LCDA, and another 2 terms of 8 (eight) years representing Ikeja at the Federal House of representatives"
Benson Awoyinka further said "we should lead in landmark legislation on the protection of the Girl child, domestic violence and abuse; we should lead in legislating on the recognition of the Supreme Court judgement on the administration of the 20 Local Governments and the 37 LCDAs in the State" adding that the time has now come to bring in new blood, new ideas, fresh representation, a new face, progressive thinking, and most importantly, progressive action. She said Ikeja Federal Constituency being home to the State Capital is not only strategic but also sensitive as the pacesetter for others in terms of legislation that drives development, education, vocation, enterprises and promotes development yet it remains under developed as our current representative is grossly distracted.
For our constituency's growth, we must adopt a people focused and minded policy, progressive agenda if we are to avoid moral decadence, high rate of unemployment, reduced crime and the monetary expenditures associated with all said Benson Awoyinka. For over 15 years, there has been no real push to increase productivity among the constituents, encourage vocation and enterprises as education should be the only thing considered as a means to an end she said and that it's time for the constituency to actively pursue and entice corporations and businesses that offer higher paying jobs to train some of the teaming youths on vocations that can enhance productivity.
Benson Awoyinka has worked and associated closely with a broad spectrum of Nigerians, Lagosians and stakeholders in our Constituency, in Lagos, pan Nigeria and Internationally.
A barrister and Solicitor of the Supreme Court of Nigeria called to the Bar in 1990, a business owner, mother and Executive of the Lagos State APC.