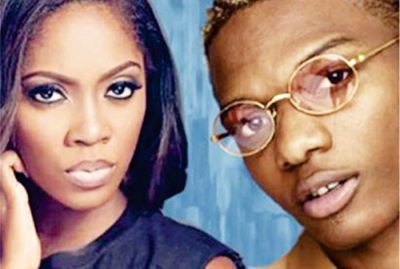 It is safe to say that Nigerian superstar, Ayo Balogun, a.k.a Wizkid, is on top of his game. From the beginning of the year, the pop singer has been on a winning streak, the latest being his impressive United Kingdom (UK) tour. Wizkid reportedly sold out London's 20,000-capacity O2 Arena earlier this week, making him the first Nigerian to do that. And even though he has been recording hits, picking up awards and touring the world in the last six months, the artiste's personal life has elicited interest among his fans.
Since the beginning of the year, when he collaborated with music diva, Tiwa Savage, and released the track, 'Malo,' all eyes have been on both singers.  Entertainment buffs argued that the chemistry displayed by both artistes doesn't feel like they were just singing. It also didn't help that 'Malo' is a love song. As a testament to the performance put up by the artistes in the song, the video generated over 20 million views on YouTube, making it one of the most viewed videos in Nigeria.  At the backdrop of speculations about the true nature of their relationship, it appears Wizkid has encouraged rumours of romance.   Having put up a superlative performance at the recent AfroRepublik concert, Wizkid stopped the show midway to invite Tiwa on stage to perform their hit duet, 'Malo.' So doing, he referred to her as 'someone special.'  There have been other instances where the singers left fans guessing. For instance,
on the music diva's birthday, Wizkid sent her an affectionate online greeting. He said: "Big birthday, shout out to a Queen!! Our Queen, My Queen! Hard worker!! @tiwasavage." In that post, he shared five of her photos on his page. Also the songstress gave a shout out to her 'bestie', referencing the 'Star Boy' after receiving her award at the 2018 Headies. Not so long ago, on Friday, March 30, to be precise, Wizkid joined Tiwa while she performed at the Gidi Culture Fest, at Hard Rock cafe beach front, Oniru VI. But while some are excited for both artistes, others berate Tiwa Savage for divorcing her husband and giving the impression that she is dating a younger artiste.
A social media follower was particularly quoted as saying that it is not complimentary if indeed she is dating Wizkid. This is among the several expletives that have been vented on the songstress. On the flip side though, some of the artistes' fans have risen to their defence, citing the case of the Duke of Sussex, Prince Harry and his newly wedded bride, Meghan Markle. Not only is the Duchess older than him, she was also a divorcee; factors she allegedly shares with Tiwa Savage.
A Twitter user, Dayo 'Segun, for instance, aired his view: "Meghan Markle, 3 years older can marry Prince Harry but Tiwa Savage can't date/love/marrry Wizkid because she is older than him. Can you see your hypocrisy?" Idris Bahuballi, however, argued that Wizkid and Tiwa have every right to have an affair because "they are adults and have all the right to date who they want to. Age, race, tribe, religion etc shouldn't be a barrier when it comes to love." Not left out of the discourse is Kiki Osinbajo, daughter of Vice President, Prof. Yemi Osinbajo. She expressed her view on the romance between the musicians when she shared pictures of the two singers on stage at the Afro Republik and captioned it: "Can I just say I'm in love with this friendship/love?" While fans eagerly wait to see where the story leads, there are several theories about the artistes' newfound friendship.  (The Nation )