[BREAKING] Electoral Act: Supreme Court strikes out FG's suit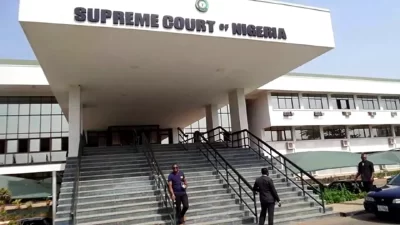 The Supreme Court on Friday struck out President Muhammadu Buhari and Abubakar Malami, the Attorney General of the Federation (AGF's) suit challenging Section 84( 12) of Nigeria's Electoral Act.
POLITICS NIGERIA reports that the controversial part holds that: "no political appointee at any level shall be a voting delegate or be voted for at the convention or congress of any political party for the purpose of the nomination of candidates for any election."
The Supreme Court struck out the case saying it is an abuse of court process.
This newspaper recalls that President Buhari and Malami had on April 29 filed a suit at the Supreme Court, seeking an interpretation of the controversial clause in the Electoral Amendment Act 2022.
There have been several wrangles concerning Section 84(12) of the amended Electoral Act 2022 which was assented to in February.
Upon assenting to the act, President Buhari had asked the National Assembly to expunge the contended clause. However, the parliament rejected the president's request.