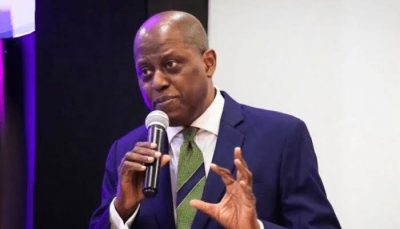 President Bola Tinubu's appointment of Cardoso and the four new deputy governors of the CBN may have run into a hitch as tempers are now flaring in the nation's financial sector over the new development at the apex bank.
Already, it was learnt, the managements of the nation's commercial banks and even staff of the CBN are spoiling for a showdown with the Federal Government over the new appointments at the apex bank.
President Tinubu had last Friday, through his spokesperson, Ajuri Ngelale, announced Dr Yemi Cardoso as the new CBN governor as well as four others as his deputy, pending their confirmation by the National Assembly.
The four nominated as deputy governors are Mrs Emem Nnana Usoro, Mr Muhammad Sani Abdullahi Dattijo, Mr Philip Ikeazor and Dr Bala M Bello.
Their appointments effectively ended the tenure of the apex bank's acting governor and his deputies.
It was gathered on Monday from credible sources that the Managing Directors and Chief Executive Officers as well as major stakeholders in the commercial bank sectors are up against the appointment of Cardoso and his four deputies as the new managers of the CBN and the nation's financial sector.
The commercial banks MDs and other major stakeholders are said to be kicking against the appointment of Cardoso and his deputies, which they have described as mere handing over of the CBN and the nation's financial sector and economy to a new set of "incompetent and incapable hands" by President Tinubu. (The Encounter)