Stabilise Naira, end corruption to unlock Nigeria's success – US Treasury's Adeyemo tells Tinubu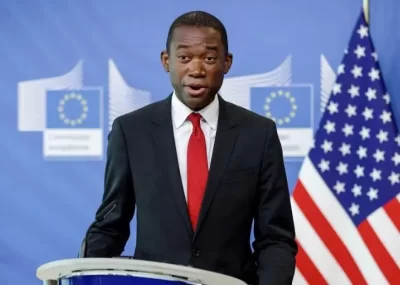 U.S. Deputy Treasury Secretary, Wally Adeyemo on Monday advised President Bola Tinubu-led government to stabilize Naira and fight corruption to unlock Nigeria's potential.
Adeyemo who is in Lagos to improve US-Nigeria economic ties praised Tinubu for pursuing difficult and bold reforms and listed steps needed for the type of growth that Nigeria needs to create economic opportunity for the Nigerian people.
"Your economic success is not only important to the approximately 200 million people who call Nigeria home, it is important to the region, the continent and the global economy," Adeyemo said in a speech at Lagos Business School.
The visit by Adeyemo, the highest-ranking member of the African diaspora in the Biden administration, comes after visits to the continent by other top officials, including Treasury Secretary Janet Yellen and Vice President Kamala Harris.
"First, Nigeria needs a stable naira. Unifying Nigeria's foreign exchange rate will also create the kind of macroeconomic stability that is essential to attracting foreign investment," he said.
"We commend the difficult steps your government has already taken to accomplish this goal. The path to unification is not an easy one as everyone is experiencing, but going backwards would be even worse.
"Second, the government needs to articulate and implement a credible fiscal strategy that will provide the resources to make critical investments.
"I recognise the decision to end fuel subsidies is hard for many Nigerian households. But it was an important early step to create resources that the government can use to invest in physical and digital infrastructure, education, and a strong small business environment.
"There is nowhere this need is greater than the agricultural industry, which, despite the digital revolution going on in Nigeria, remains Nigeria's top employer.
"Its full potential, of course, is held back by issues like access to fertilisers, limited use of new technology, access to water and land and the availability of credit and high market entry costs."
Adeyemo also called for steps to shore up the integrity of the Nigeria's banks and reduce the ability of "criminals, terrorists and others" to launder money through the Nigerian financial system. Washington stands ready to help Tinubu's government tackle challenges in this area, he added.
"The opportunity has never been greater," he said. "Your government is pursuing difficult and bold reforms. The United States looks forward to being a partner as you build an economy that works for all Nigerians."