I love Tinubu, he will fix Nigeria – Yul Edochie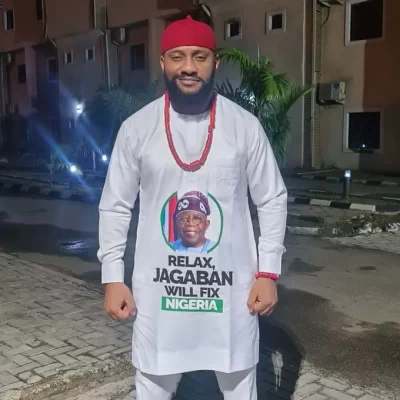 In a recent Twitter post, popular Nollywood actor Yul Edochie has once again voiced his backing for President Bola Ahmed Tinubu.
The actor shared a photo of himself wearing traditional Igbo attire, with a portrait of Tinubu placed prominently on the white fabric.
The caption on the attire reads, "Relax, Jagaban will fix Nigeria".
Accompanying the image, Yul wrote, "ASIWAJU BOY. 100%. UNAPOLOGETICALLY. I LOVE TINUBU. @officialABAT
I BELIEVE IN HIM. AND I'M PRAYING FOR HIM TO SUCCEED."
Yul's endorsement comes amid challenging times faced by the country. However, his endorsement has sparked mixed reactions from his fan base. While some have commended his unwavering support, others have expressed their disagreement in the comment section of the post.
One follower injected humor into the post with a light-hearted comment: "LMAOOOOO WELCOME TO AGBADO KINGDOM".
On a more positive note, another supporter expressed admiration for Yul's appearance and attire, while also acknowledging potential critics: "Children of anger will not be happy to see you looking good in this beautiful attire. ❤️".