KICC: Ahead Of Retirement, Ashimolowo Ordains Son As UK Resident Pastor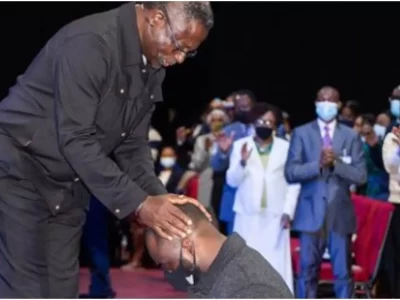 Tobi Ashimolowo, first son of Pastor Matthew Ashimolowo, founder of the Kingsway International Christian Centre (KICC), has been ordained as a resident pastor in the United Kingdom.
In a video, the pastor was seen ordaining his son as he told the congregation that the new resident pastor would be assisting his mother, Yemisi Ashimolowo.
He said, "In a very major way from this morning, we will no longer have one resident pastor. Yemisi has always been our resident pastor, so she will be Resident Pastor 1. Our new resident pastor is Pastor Tobi Ashimolowo. So, he is our Resident Pastor 2, he has to take some serious responsibility from now on. These guys are retiring their father."
He prayed that his son will be anointed and favoured by God.
Ashimolowo converted to Christianity from Islam after the death of his father, when he was aged 20.
Forbes once estimated Ashimolowo's net worth at between $6–10 million. KICC annual accounts confirmed that he earns an annual salary of £100,000[ but the majority of his wealth comes from the sale of Christian literature and documentaries from his media company, Matthew Ashimolowo media.