Raymond Dokpesi: Family announces burial arrangements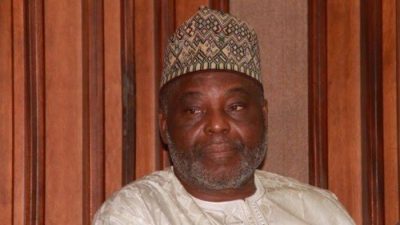 The Dokpesi family of Agenebode, Edo State, has announced the burial arrangements for their beloved patriarch, High Chief Raymond Dokpesi.
According to the burial arrangements, the Late Dokpesi will be buried on 22nd June, 2023 at his residence in Agenebode.
The funeral activities will commence on 19th June, 2023 with a day of tributes, which will take place at the prestigious International Conference Centre in Abuja at 4:00 pm.
Dignitaries, friends, and well-wishers are invited to pay their respects and honour the memory of the late DAAR Communication founder, Raymond Dokpesi.
On the following day, the 20th June, a requiem mass will be held at the Church of the Assumption in Abuja at 12pm.
The religious service will be a solemn occasion to celebrate the life and legacy of the esteemed entrepreneur.
After the requiem mass, a reception will be held at the DAAR Villa, located at 1 Ladi Lawal Drive, Asokoro, Abuja, providing an opportunity for attendees to offer condolences and support to the Dokpesi family.
The funeral procession will then proceed to Agenebode, the ancestral home of the Dokpesi family, on 21st of June. At 5pm, a Liturgy of Songs will be conducted at Ezomo's Residence in Agenebode, allowing the local community to pay their final respects to the late Chief Dokpesi.
The main funeral events will take place on the 22nd of June. A funeral mass and interment will be held at Ezomo's Residence in Agenebode, starting at 11am. Family members, friends, and dignitaries will gather to bid farewell to the visionary founder of Daar Communication.
Entertainment for guests will hold after interment at the Ezomo's residence in Agenebode and St. Peter's Secondary School, at 2pm.
And on 24th June, a thanksgiving mass will be held at the Sacred Heart Catholic Church in Agenebode at 9:00 am.
The church service will be an occasion for gratitude, as the community offers prayers and thanks for the impactful life of the late Daar Communication founder.