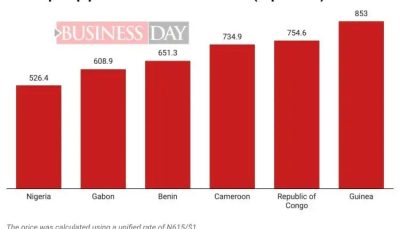 A comparative analysis of the newly reviewed petrol prices in Nigeria after subsidy is removed with those of its West African neighbours shows the business of smuggling the country's petrol is no longer viable as cost differentials are no longer attractive enough.
Data sourced from Global Petrol Prices, a website that tracks retail prices of refined petroleum products, show that prices across Africa are no longer as wide, which creates arbitrage incentivising the smuggling of petrol from Nigerian borders.
The price difference between the average price in Nigeria and Benin is less than N150 and about N200 per litre for some other West African neighbours, indicating that Nigeria's subsidy removal will roil the market for illicit petrol across Africa.
"People smuggle because they have historically gotten the commodity cheaper here in Nigeria and can make a reasonable margin selling to neighbouring countries even after all costs considered; once the subsidy is removed and there is a free market, the margins will not be such as to substantially encourage smuggling," said Ayodele Oni, energy lawyer and partner at Bloomfield Law Practice.
Oni said that when the product is delivered at the market rate and marketers are allowed to compete, smuggling will not be as attractive, considering haulage costs and other costs.
Mele Kyari, group CEO of the Nigerian National Petroleum Company Limited (NNPC), in an interview on Arise TV on Thursday, alluded to this, explaining that when a marketer hauls a full tanker to the North for sale, profit margins could hover around N250,000 but taken across the border, the subsidised petrol can turn in a profit of over 30 million.
This incentive has fuelled the widespread smuggling of subsidised petrol from Nigeria across West Africa. Investigations have shown that Nigeria's petrol gets to as far as Sudan.
Subsidy removal, said Billy Gills-Harry, president of the Petroleum Retail Outlet Owners Association of Nigeria, aligns Nigeria's pricing with its neighbours and "eliminates the price disparity that previously existed, which created an incentive for smugglers to illegally transport petrol across the borders."
Several efforts to check the smuggling of petrol from Nigeria have failed because the illicit activity involved highly placed Nigerians including government officials, security agencies including the Nigerian Customs Service and even officials of the NNPC.
This accounted for the setting up of several petrol stations in border communities in Nigeria, with some as many as over a dozen in communities where there are barely 100 vehicles. These petrol stations accept products transported from Lagos by fraudulent marketers who in the night smuggle them across the borders in active connivance of compromised border protection agents.
According to NNPC's own admission, over 20 million litres of petrol is smuggled outside Nigeria daily. The sale of smuggled petrol across the West African sub-region oils black markets and distorts the price mechanisms of these countries.
It also fuels corruption in the NNPC and serves as a convenient excuse to explain away outrageous subsidy claims. This has made it impossible to determine Nigeria's exact consumption.
Prior to President Bola Tinubu's confirmation that fuel subsidy is gone, Nigeria's price peg of N195 per litre was not only hurting investments and creating a boom for smugglers.
On roadsides in Cameroon and other West African countries, vendors fill customer's cars, using the cut-off top of a plastic bottle as a funnel.
In 2021, the NNPC raised alarm over the sustained nefarious activities of some cross-border fuel smuggling syndicates that made it difficult to account for about 20 million litres of fuel daily.
Petrol smuggled from Nigeria is known as "Funge" or "Zoa Zoa", in Cameroon's North West region. This is despite the fact that Cameroon is one of Africa's biggest oil producers producing over 70,000 barrels of crude daily in 2019.
The African petroleum market is set to become vibrant with Angola following Nigeria's lead to eliminate fuel subsidies on Thursday.
Countries with the highest petrol prices are Hong Kong (an equivalent of N1,824.09), Monaco (N1,370.22), Iceland (N1,380.675), Barbados (N1,292.73) and Denmark (N1,290.885). The lowest petrol price is in Venezuela at an equivalent of N2.46, followed by Iran at N17.83, Libya at N19.065, Angola at N174.045 and Algeria at N206.64.
(BusinessDay)