The Weeknd Hints He Offered Selena Gomez His Kidney In New Song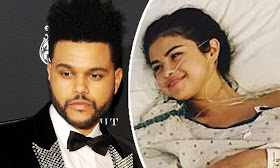 She underwent surgery to receive a kidney from her close friend last year.
But now fans are speculating The Weekend may have offered to give ex-girlfriend Selena Gomez one of his kidneys, after reading into the lyrics of his latest song.
In his new track Call Out My Name, he sings: 'I said I didn't feel nothing baby, but I lied / I almost cut a piece of myself for your life.'
Selena famously received a kidney from her friend Francia Raisa last year, after being diagnosed with Lupus.
'The Weeknd Almost gave Selena Gomez his Kidney and I can't even get a text back,' many fans tweeted.
The majority of tweets however thanked Gomez for her public service.
'Shout out to Selena Gomez for breaking The Weeknd's heart, cause i needed this album,' one summarized .
Other lyrics from his new EP My Dear Melancholy are believed to relate to his brief but intense romance with his fellow singer, which took place between two of her relationships with Justin Bieber.
'Guess I was just another pit stop / 'Til you made up your mind / You just wasted my time,' he also laments in Call Out My Name.
He also talks about how the duo found each other during trying times with the lyrics: 'We found each other / I helped you out of a broken place / You gave me comfort / But falling for you was my mistake.'
The Weeknd and Selena began dating at the start of 2017, during which time the starlet largely kept out of the spotlight while dealing with her health and other personal matters.
Soon after Tesfaye and Gomez's split in October 2017, she was seen spending time with on-off ex Justin Bieber.