Traffic robbers adopt new tactics as Christmas approaches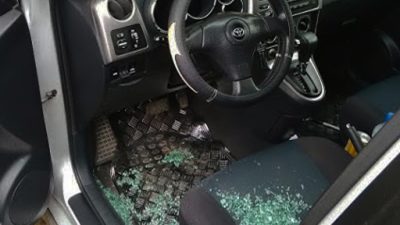 With Christmas around the corner, commuters and motorists are worried over the resurgence of traffic robbers in the Lagos metropolis.
Apart from the increase in their activities, they have adopted new tactics to rob residents and motorists, while dexterity in their operation is overwhelming too.
Formerly, they operated only under the cover of darkness, springing out from their hiding places, to dispossess their victims, mainly of cash, phones and laptops.
But today, they brazenly operate in broad daylight, without fear of being apprehended by security agents.
They lurk around areas prone to traffic, like Agboju/Alakija, Abule-Ado, Okokomaiko, Iyana-Oba, Oko-Afo and Magbon, all along the Mile-Two/Badagry expressway and sometimes at bad spots, waiting for their prey.
The Lagos /Ikorodu expressway is another axis where traffic robbers hold sway, no thanks to perennial gridlock which traps motorists for hours.
Iddo, Eko bridge, Akpongbon, Ikoyi bridge, Idumota, Ijora Olopa, Eyin-Eyo and the Third Mainland bridge, all on Lagos Island, are not left out in the traffic robbery menace.
Also, traffic robbery at Oke-Afa, Isolo area of Lagos, dates back over a decade ago when a group of armed boys attacked motorists on a daily basis until policemen attached to the disbanded Special Anti-Robbery Squad (SARS) launched a manhunt, which ended the group's reign of terror.
Sometimes, they pretend to be beggars and at other times hawkers or commuters.
The robbers are often between ages 16 and 40, all males. Some of them are homeless. They sleep in markets, bus stops, open fields and uncompleted buildings after the operation.
In the Ojota area and environs, the trees planted to provide aesthetics around the axis provide cover for their nefarious activities.
They came from different backgrounds but are joined together by a common motive, crime.
These boys terrorise and rob Lagos commuters and motorists of their hard-earned money at night and in broad daylight.
When they are not on 'duty, they pretend to be resting and savouring the environment.
On Monday, a motorist, Goddy Ezuka told The Guardian how these thugs forcefully demanded money from him and other drivers with a threat to attack them if they fail to cooperate.
According to him, it was around 8:00p.m, while he was returning from work along Iyana-Oworo- 7-UP toll gate, which is often manned by police, that these miscreants pounced on him and other motorists held in traffic and broke his windscreens in an attempt to rob him.
Another witness, who passed through Ojota about 9:00 p.m. on Monday, also said he witnessed moments a dark-complexioned young man in shorts and a T-shirt waltzed into the side of a black Prado SUV stuck in traffic around Freedom Park.
The fellow knocked on the front windscreen and vehemently asked the driver for money but the latter resisted.
As the thug attempted to bring out a weapon, the driver, a middle-aged man, quickly handed a naira note to him. He fled into the lawn afterwards.
Not far from the spot was a cluster of policemen and their van stationed some metres away from the spot where the incident happened.
Apart from pouncing on motorists, the robbers have also adopted new tactics, where they pose as commercial motorcyclists that are waiting to pick passengers.
One of the robbers will pretend to be a passenger, while another will pose as a commercial motorcyclist.
On getting an unsuspecting passenger, the one posing as a passenger will climb at the back of the unsuspecting passenger and along the way, they will attack and dispossess him of his possession. On getting one, a member of the gang pretending as a passenger will join at the back, thereafter they will rob the passenger of his valuables.
Narrating his experience at Toyota bus stop, a passenger said: "When I got to the Toyota bus stop, I stopped a bike going to the airport road, so I can drop at 7/8 bus stop, you know that they usually carry two passengers at once.
"When I boarded the bike, the rider was waiting for the second passenger. I should have known earlier when many passengers were trooping out of Ladipo market, and yet, the rider was not calling any of them.
"Few minutes later, a guy came and the rider called 7/8, Airport junction and the guy immediately jumped on the bike and we moved on.
"Immediately the rider got under the bridge, he stopped, and the passenger behind grabbed me, gave me a slap and began to ransack me.
"I thought it was a joke, not until he brought out a very long screwdriver and attempted to pierce my neck.
"After some struggle, I got overwhelmed because they were two armed guys and they seriously beat the hell out of me after they had injured me on my hand with the screwdriver.
"They made away with my phone, stripped me of all my belongings, mount their bike and spirited down the bridge towards Mile two."
Reacting to this development, the Lagos State Police Command said the situation is under control.
The spokesperson for the command, CSP Adekunle Ajisebutu, said the pockets of traffic robberies in the metropolis do not suggest a resurgence considering the population of Lagos.
Ajisebutu also assured  Lagos residents  of the Command's efforts to tackle crime in all corners to ensure a safer Lagos for all during the forthcoming yuletide.
He said: "We are mindful of the fact that Christmas is coming, and we have planned ahead of Christmas. So, there should be no course for alarm at all.
"However, we want to appeal to members of the public that if they should experience any traffic robbery, they should as quickly as possible report to the nearest police station, to enable us to take appropriate action." (Guardian)