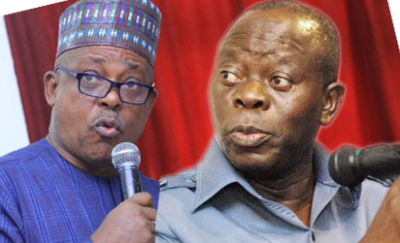 The Peoples Democratic Party (PDP) has called on national and international security agencies to hunt down the National Chairman of the All Progressives Congress (APC), Comrade Adams Oshiomhole and bring him to justice.

PDP in a statement by its National Publicity Secretary, Kola Ologbondiyan said Oshiomhole sudden flight out of the country was a suspect.

According to the party, the APC National Chairman travelled out of the country after his alleged interrogation by the Department of State Services (DSS) for corruption charges.

"It is ludicrous that the APC, in its lying proclivities, believes that by dismissing Oshiomhole's arrest as a rumour and aiding him to momentarily flee the country, it would succeed in getting him off the DSS hook as well as sweeping the matter out of public discourse with its famished broom," PDP said

It, therefore, called on the National Intelligence Agency (NIA) and INTERPOL to track him down and bring him to answer the charges against him.

The party accused President Muhammadu Buhari of shielding Oshiomhole from prosecution for fear that his investigation would implicate certain interests at the presidency and the APC.

"Nigerians are already aware that Oshiomhole has not denied his investigation including his reported confession that the presidency was
in the loop of all his actions," the party noted.

It warned the APC National Chairman that "his arrogance, lust for power and alleged embezzlement of public funds for which he must surely have his day in the hands of the law."

PDP demanded that APC and the presidency should immediately produce Oshiomhole to face investigation and prosecution in the courts.