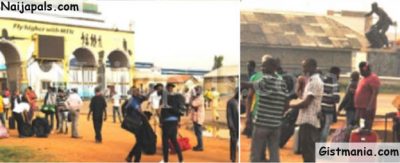 The German government is set to deport about to 30,000 Nigerians seeking asylum in the country. This was disclosed by the Senior Special Assistant to President Muhammadu Buhari on Diaspora and Foreign Affairs, Hon. Abike Dabiri Erewa, at a programme;
Quote
"Developing a mixed migration strategy for UNHCR Nigeria" in Abuja on Tuesday.
"Germany said it has about 25,000 to 30,000 Nigerians seeking asylum and they can't guarantee they will get it. So, there is every possibilities that they will be returned to Nigeria,"
she said.
She said the German government alleges that the reasons for asylum by the Nigerians were not genuine, Daily Trust writes.
Quote
"Some who are from the East and West are saying they are running away from Boko Haram while some others say they are gays and were having challenges expressing themselves in Nigeria.
"Germany has set up a team working with the ministry of foreign affairs to see how the whole process [of deportation] can be made easier," s
he said.
She enjoined young Nigerians to take advantage of scholarships and easier process of regular migration for Nigerians offered by the German government.
Quote
"We are looking at the option of reverse migration also where you can actually stay in your country and enjoy everything you are migrating abroad to get,"
Hon. Dabiri Erewa stated, adding that irregular migration was no longer working as the foreign countries were also having their own challenges now.