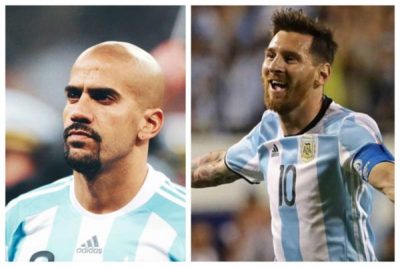 Juan Sebastian Veron has said over dependence on Leo Messi by the Argentine national team is hurting them,
Veron said Argentina must stop relying heavily upon their star man in order to develop the rest of their squad and backed Tottenham coach Mauricio Pochettino to take over as coach.
Messi has yet to discuss his international future after competing in his fourth World Cup, in which Argentina were knocked out in the round of 16 by eventual winners France.
The runners-up in the 2014 World Cup, Argentina also finished second at the Copa America in 2015 and 2016, leaving Messi with only an Olympic gold medal from 2008 to show for his international accomplishments.
"It's time to build a group," Veron, the former Argentina international, told ESPN Argentina. "Obviously, if Leo is eager (to be part of the national team), they would need to involve him little by little.
"I think we have to prepare the base and once and for all think about a team and not think about someone who can save us. Even more at this time, watching other national teams and how they faced the World Cup, it seems essential to think about a group."
Argentina would not have reached the World Cup had it not been for a hat-trick Messi scored in their final qualifier, a 3-1 win at Ecuador on October 10. Messi said in March that Argentina would have to win the competition "now or never."
Argentina also face questions regarding who will be their coach going forward after they reached an agreement to part ways with coach Jorge Sampoli three weeks ago.
Pochettino is reportedly Argentina Football Association president Claudio Tapia's top choice for the vacant post, and Veron said he would back that decision.
"Obviously, Pochettino's name is seductive any way you look at it," Veron said. "But I think that to offer him something, you have to have something well-armed. Present him a platform and see how he can fit into that."
Pochettino signed a new five-year contract with Spurs in May, and another reported candidate, Atletico Madrid coach Diego Simeone, signed a contract through the 2019-20 season in September.
"The candidates are those who we are all thinking about," Veron said. "But we have to see those who are available because I don't see it as something simple. … I think the best are Pochettino and Simeone."
Argentina, who are seeking their fourth coach in four years, will face Guatemala and Colombia in friendlies in the United States in September.