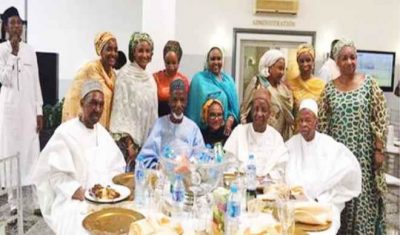 The family of late Suleiman Wali, the first Walin Kano, is famous in Kano State.
Wali's forefathers were Fulani cattle rearers and Islamic scholars in Ja'en quarters, Gwale Local Government Area of Kano.
As cattle rearers, they were always on the move in search of water and land for grazing and wherever they found suitable land, they camped there and planted some crops for their families and animals.
It was in the course of their movements that Wali's grandfather, Sarkin Zuru Usmanu, led other members of the family to Katanga village and settled there.
According to Alkali Husaini Ahmad Sufi, Sufi, a nephew of late Wali, initially, they camped on the outskirts of the village, grazing their animals and studying the Qur'an. At first, they would only pass the night there and move on the following morning.
When Usmanu saw how fertile the land was, he said if they could spend the season there, they would have enough food for their cattle, and some rest as well, thus, they settled on the outskirts of the village. Sufi added that when the village head of Katanga heard about them and their plan to spend a whole season, he fled the town, because the Dan Fodio Movement was feared at that time.
"When they heard that the village head had fled, Usmanu and his people moved into Katanga and settled there and a few days later, he went to Kano and informed the the emir, Sulaimanu, on the development in Katanga and the emir appointed him the new village head.
"He reigned for some time and died, and his brother Abubakar succeeded him.  After some time, Abubakar decided to step down and was succeeded by Usmanu's son who had the same name. Abubakar II, who was  young, decided to request for the erection of a Juma'at mosque in the village.
Abubakar ll sought the emir's permission to go to Sokoto get the consent of Shehu Usman to build the mosque. When he returned from Sokoto, he built the mosque and a new palace at the place in Zuru, where his grandfather earlier camped, and vacated the old palace of Katanga, thereby making the Zuru palace his new headquarters. He was referred to as Sarkin Zuru," Sufi said.
Daily Trust gathered that as time went by, one village head succeeded another, till the time of Sarkin Zuru Usmanu who was the grandfather of late Walin Kano Suleiman. Usmanu had a son called Sama'ila who had a covenant with the rulers of Kano during the Fulani jihad that brought Fulbe to the throne of Kano. He was a close friend of Galadima Yusuf.
When Kano was defeated during the civil unrest, Sama'ila was made the chief imam of Kano. After his death, there was no one to come from Katanga village to succeed him as chief imam. Meanwhile, Imam Wali was studying Qur'an in the village.
Traditionally, when a person studied the complete Qur'an, he would be celebrated and given a well decorated wooden board (Zayyana) and visit his relations, family friends and well-wishers to receive blessings from them.
When Wali completed Qur'anic study, his mother, Hajiya Hadizatu, was married in Kano, and with her was her younger sister, a divorcee, Hajiya Safiya, popularly called Inna. Therefore, when Wali came to his mother for her blessings, his aunt (Inna) introduced him to one of the wives of the Emir of Kano, Abbas Sanusi, Fulani Maiharara, who was incidentally looking for someone to teach her the glorious Qur'an.
It was not long after he started teaching Fulani, the mother of the Emir of Kano Abdullahi Bayero, that Emir Abbas asked all other women in the household to join the school. Among them was Hashima, the mother of Turaki Hashim, who was the father of Galadima Tijjani Hashim.
One day, after the normal Qur'anic lessons, Imam Suleiman went to greet Fulani and she asked him to also go and greet the emir who was sitting at another section of the house. The emir asked him where he studied the Qur'an, and he told him that he studied it in his hometown, Zuru. The emir then sent two cows and other gifts, including two royal garments to Suleiman's teacher. He also directed one Malam Nuhu to take care of Wali and informed his (Wali's) family that he would not return to the village any more.
Wali stayed with Malam Nuhu, teaching the emir's wives and also learning from the Na'ibi of Kano, Adamu, who happened to be a younger brother to the friend of Wali's father. He also learnt from other scholars in the city, like Malam Salga, Malam Adhama and Malam Ibrahim Na Kabara. Whenever he heard of a famous scholar, he would go and study one aspect of Islamic knowledge or another from him and gradually, he also became a great Islamic scholar in Kano.
Similarly, at that time, the people of Zaria were famous in Arabic grammar and Wali left Kano secretly for Zaria. No one knew his whereabouts except his mother. He went to study Arabic grammar in Zaria for two years at the residence of Walin Zazzau Umaru. His mother became anxious and went after him. She spent six days trekking before arriving Zaria where she traced the address he gave her. When they returned to Kano, the emir asked him to always make it known whenever he wanted to travel.
Wali continued with his teaching and learning till the death of Sarki Abbas and when Bayero became the emir, a new school was established at Shahuci, and the  emir appointed Wali to head the school. After four to five years of teaching in the school, the emir appointed him treasurer of the emirate council.
They went to hajj with the emir in 1938, when they returned, the emir decided to turban him as the Waziri of Kano to succeed the former Waziri who died, but due to some problems it did not happen. So Wali requested that the emir should make him Wali which was the title of his teacher in Zaria.
It was gathered that the late Malam Abubakar, popularly known as Mai-Sajen Jamus, a son of Walin Zazzau Aminu, who was a disciplinarian and a close confidant of the late Emir of Kano, Abdullahi Bayero, advised Wali on the request for the title of Wali.
Daily Trust learnt that the title of Wali was only reserved for people who were not princes but had vast Islamic knowledge in order to guide the emir on Islamic laws. Emir Bayero obliged Wali's request and he became the first Walin Kano. This was his paternal lineage.
His mother, Malama Hadizatu or Mama as she was widely called, was the daughter of Madakin Tsangaya, a village under Gaya Local Government Area of Kano State where Shehu Usman sent his disciples to teach Islam. One of the disciples was Mallam Ibrahim, known also as Modibbo Gaya, who was the father of Abdulkadir that later became the village head of Tsangaya and was addressed as Madakin Tsangaya. Abdulkadir was the maternal grandfather of Sulaimanu Wali. Their clan, Gyanawa, is  very popular in Kano.
Suleiman served as Walin Kano only for a year and died in 1939. He left 15 children, with three still alive. One of them is Dahiru S. Wali, a Kaduna-based business man for over 50 years. The second is Alfa S. Wali and the third is Professor Sadiq S.Wali, a former chief physician to five former Nigerian heads of state.
The eldest son was late Ujudud S. Wali who died in 1955. The next was late Imam, then late Na'ibi S. Wali, a former deputy grand khadi of Kano State. After him, there is Alhaji Dahiru S. Wali, the pharmacist,  who owns Tsamiya Chemist in Kaduna. There is Alfa S. Wali, a civil servant who rose to the rank of permanent secretary and served in many ministries and also a one-time Minister of Agriculture.  Then, there's also Hafiz S. Wali, an educationist who is very interested in technical education. He set up the National Teachers Institute (NTI) in Kaduna. After Hafiz, there was the late Ahmed S. Wali, a veterinarian. He died several years ago. There was Brigadier Abbas S. Wali, who fought in the Nigerian civil war and lost a limb. He, too, died long ago and finally, Professor Sadiq S. Wali.
The late Walin Kano left behind four daughters, the oldest was Hajiya Hadiza S. Wali (Mama), the mother of late Hajiya Zahara Sabo Nanono who was a commissioner in the state and the proprietress of Al Ansar Girls' College, Kano and Hajiya Mariya S. Wali (Harara), the mother of late Ujudud Shariff, who served as a commissioner.
Others are; Hajiya Zahara S. Wali, the mother of Kabiru Mukhtar, a former commissioner in the state, Professor Maryam Musa Suleiman of the ATBU and Dr Mariya Mukhtar-Yola, the fourth daughter is Hajiya Aishatu S. Wali, the mother of Baba Halilu Dantiye, the Permanent Secretary, Kano State Ministry of Environment, a former Director General on Media to former governor Rabi'u Musa Kwankwaso and Governor Abdullahi Umar Ganduje. He was also a president of the Nigerian Guild of Editors.
According to Alkali Sufi, the families of Suleiman Wali and late Bashir Wali, the father of the current Walin Kano, Mahe Bashir Wali, were descendants of Muhammadu Gyano.
"They have the same root. Their great grand fathers were from the same clan, which is Gyanawa."    (Daily Trust)