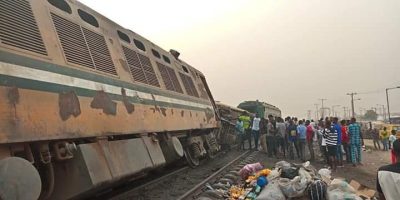 Residents of the Mangoro-Agege areas of Lagos state where a train derailed on Thursday morning have blamed the incident on negligence on the part of the Nigeria Railway Corporation (NRC).
They said the incident would not have occurred if the NRC officials have fixed part of the rail tracks that was faulty.
Many travellers were reportedly trapped when two coaches on the train derailed from its tracks around Ashade Ram Market, near Mangoro Bus stop, in Agege area of Lagos.
It was however learnt that the incident was a minor one as only one person was injured and was given first aid treatment at the scene.
Rescuers from the Lagos State Emergency Management Agency (LASEMA), Police and officials of the Lagos State Traffic Management Agency (LASTMA) were the first responders at the scene.
Witnesses said that the casualty rate was low because of the weekly environmental sanitation observed in the state even as the traffic situation at the time of the incident was also low.
One of the witnesses said the area where the incident took place is usually a crowded place, but that traders were yet to resume for the day.
Speaking on the incident, Tiamiyu Adesina, general manager, Lagos State Emergency Management Agency (LASEMA), said the agency was alerted about the incident at about 7:15am.
He said that the fully loaded train, which was enroute Ebute Metta and Oshodi from Iju, derailed from its tracks.
He said investigations revealed that the train derailed as a result of faulty tracks at the level crossing which had earlier been reported by officials of the Lagos State Traffic Management Authority (LASTMA), in the area, adding that engineering works were meant to commence on the faulty track  today before the incident happened.
Checks by Daily Trust showed that the NRC officials have mobilized equipment to the area to fix the faulty tracks while the road was barricaded as at the time of filing this report.