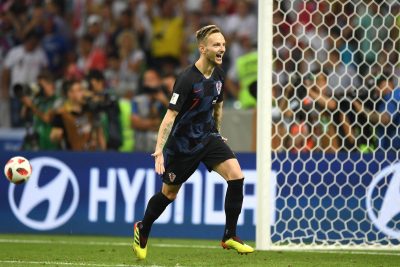 Croatia midfielder, Ivan Rakitic has taken a swipe at England national team following their 2-1 victory over the Gareth Southgate's side in the 2018 World Cup semi-final encounter played on Wednesday night.
kieran Trippier opened scoring in five minutes for The Three Lions before Ivan Perisic levelled for the Croats in the 68 minutes to take the game into extra time.
Mario Mandzukic capitalized on a defensive lapse to put Croatia ahead in the second half of extra time.
Rakitic, however, said that the Southgate's men thought they were already qualified for the World Cup finals even before the semi-final clash with the Zlatko Dalic's men because of how England were hyped on social media.
"Last night I had a fever, almost 39 [degrees]," Rakitic said at a post-match conference.
"I was lying in bed finding the strength to play and it was worth it. I would play a final without a leg if necessary."
"They thought they were already in the final, with all the things uploaded on [social] networks," he added.
"They can keep doing their stuff and we will play on Sunday."
Rakitic will hope to lead Croatia to victory when they face France on Sunday evening in the World Cup finals.