20 feared dead in Kogi tanker explosion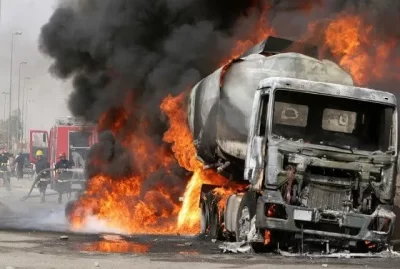 No fewer than 20 persons have been burnt to death when a tanker loaded with petroleum products lost control and tumbled on the bridge of Maboro River in Ankpa, Ankpa Local Government Area of Kogi State.
This is coming three weeks after armed robbers invaded several commercial banks after attacking the divisional police station leaving people dead.
An eyewitness said the incident happened around 3:30 pm on Wednesday.
According to the eyewitness, many of the victims were burnt beyond recognition and body parts and debris of cars littered the area.
"Many People were in the river doing one thing or the other when the tanker lost control, fell and exploded on the bridge. It's horrible. It was a gory scene, to say the least," said Usman Ahmed a resident of Ankpa.
When contacted, the Kogi State FRSC Sector Commander, Stephen Dawulung confirmed the incident.
"We cannot ascertain the number of the dead yet. A tanker, one bus and three cars, three motorcycles were involved," he said.