At Valedictory, Buhari Hails Ministers, State House Staff on Loyalty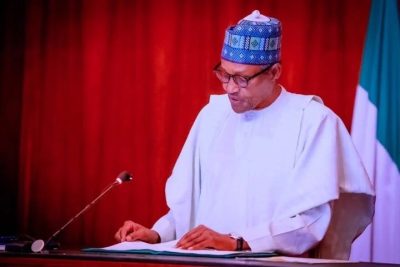 President Muhammadu Buhari Wednesday in Abuja participated in a valedictory session of the Federal Executive Council (FEC), Politics Nigeria reports.
He met with staff of the State House, as part of a countdown on his eight years of administration, with appreciation for their support and loyalty.
In his remark at the valedictory session held at the State House Council Chamber, the president thanked all the ministers for their steadfastness in pursuing the goals of the administration.
He urged them to support the incoming president, Asiwaju Bola Ahmed Tinubu, even from outside government.
The president appreciated the ministers for working closely together, despite many odds and challenges, and sustaining the synergy that translated into many achievements.
"I am proud to say we gave our best,'' he said.
He directed the ministers to tidy up their work and avoid last-minute rush that could compromise the good deeds they had done over the years.
"In the cause of our years together, ranging from our newest addition to the oldest members of the team for the past seven and half years, we have differed on many issues. I urge that we understand that those positions were for the collective good, and no one should keep grievances, or carry these differences forward.
"For those of us that will not directly be in government, I know that I am one of such, I ask that we continue to provide our support, in whatever way we can, if called upon by our great party, All Progressives Congress (APC) that gave us the platform to stand and we must continue to support it in every way we can,'' he said.
"I wish all of us the best and hope to hear good news whenever any of our names are mentioned. Thank you and God bless the Federal Republic of Nigeria,'' he said.
The President also met with members of Staff of the State House, lauding both the senior and junior workers for supporting his administration for eight years.