Debt Ceiling: Fitch to downgrade U.S. credit rating amid negative watch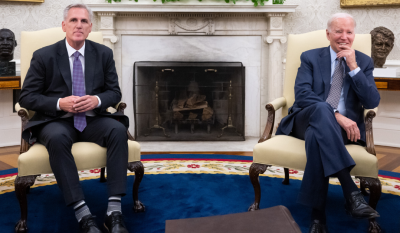 The United States' credit rating has been placed on negative watch by Fitch Ratings for a possible downgrade due to the uncertainty surrounding the nation's ongoing debt ceiling debate.
Though no agreement has been reached, the move came as Republican and Democratic lawmakers negotiate to raise the U.S. debt ceiling, with US Treasury Secretary Janet Yellen stating that the country may be unable to pay its debts as soon as June 1.
Along with Moody's and S&P, Fitch is one of the top three credit rating companies, and it has put the U.S. "AAA" on "rating watch negative," indicating that it may downgrade U.S. debt if lawmakers cannot agree on a bill to increase the US Treasury's debt ceiling.
"The Rating Watch Negative reflects increased political partisanship that is hindering reaching a resolution to raise or suspend the debt limit despite the fast-approaching x date (when the U.S. Treasury exhausts its cash position and capacity for extraordinary measures without incurring new debt)," the Fitch in a statement on Wednesday said.
The country is on the verge of an unprecedented default, which could have disastrous economic consequences for the United States.
Republicans in Congress and President Joe Biden's administration are unable to agree on raising the $31.4 trillion debt ceiling. However, Fitch warned that the United States' credit rating may suffer.
The value of trillions of dollars' worth of Treasury debt securities could change due to a downgrade.
Recall that in 2011, S&P cut the United States' credit rating to AA-plus, which triggered a chain reaction of other cuts and a drop in the stock market's value.