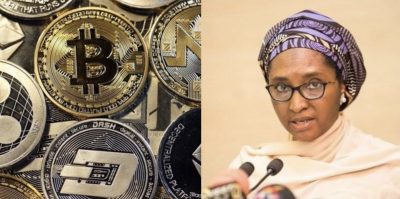 Despite placing restrictions on cryptocurrency transactions in Nigeria, finance minister Zainab Ahmed says the 2022 finance bill contains a provision to tax cryptocurrencies and other digital assets.
In 2021, the Central Bank of Nigeria (CBN) ordered banks to close the accounts of people and organisations using their systems to deal in cryptocurrencies.
The bank regulators warned people to avoid investing in cryptocurrencies, claiming such tradings are frequently used to finance nefarious activities.
However, Ms Ahmed updated the National Economic Council on the key aspects of the 2022 finance bill at a virtual emergency meeting on Thursday, according to a statement by Laolu Akande, Vice President Yemi Osinbajo's media aide.
According to the minister, the proposed bill explained how cryptocurrencies and other digital assets would be taxed in keeping with the government's strategic goal of increasing cross-border and international taxation of expanding e-commerce with emerging countries.
"For instance, under the Tax Equity pillar, all sectors of the economy would be brought into the tax net including Capital Gains Tax from digital assets, cable undertakings, lottery and gaming business," Ms Ahmed in the statement said.
She added, "Under the pillar of Tax Incentives' Reforms, there would be new deductions for Research and Development, and Investment Tax Credits; Reconstruction Investment Allowance; Rural Investment Allowance; Incomes in Convertible Currencies to be exempt, among others."
Ms Ahmed detailed that the proposed measure would be based on five essential policy pillars (climate change, tax equity, job creation/economic growth, reform of tax incentives, and revenue generation/tax administration).
She stated that the measure aimed to update pertinent tax, excise, and duty statutes in accordance with the federal government's revisions to its macroeconomic policies.
The finance minister further revealed that the measure would reform and add to the existing provisions of particular laws pertaining to the federation's public financial management.
According to her, other elements of the finance bill include chargeable assets, the exclusion of losses, and the replacement of corporate assets.