Edo Gov. Obaseki inaugurates 186 aides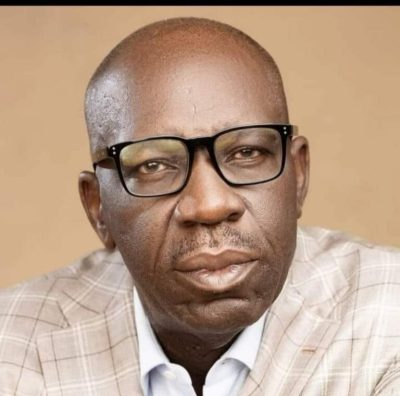 Governor Godwin Obaseki of Edo State on Monday, inaugurated 34 Senior Special Assistants (SSAs) and 152 Special Assistants (SAs).
The appointees are from Ikpoba-Okha, Oredo, Ovia South West, Ovia North East, and Orhionmwon local government areas in Edo South Senatorial District.
Obaseki who charged them to be the bearers of truth and complement the government's efforts at driving development at the grassroots disclosed that appointees from other two local government areas that make up the senatorial district will be announced as soon as the party finalises the selection of credible members that are worthy of the appointments.
"Out of the seven local government areas from Edo South, we are appointing SSAs and SAs from five local government areas. The reason is that we are trying to foster unity and inclusiveness in our party so that all are given the opportunity to participate.
"Those local governments we have not accepted their list are those local governments where work is still in progress.
"We are insisting that the leaders must agree and confirm that the people who are nominated are people who are faithful, worked for the party, and have the capacity to work for the governor.
"One of the key criteria for appointment is that you must be resident in that local government as you can't be a political appointee in absentia. Gone are the days when you get an appointment and go abroad, it can't happen again. You have to be resident in your local government. You need to be there to know what is going on so as to help us develop the local government and State."
He further noted, "You all are my appointees, you work for me not the local government. We are working in all the wards in Edo State; we have teachers, health workers, and many others as we work together to develop the State. We want people on the ground to communicate to the people what we are doing and also want feedback from them.
"This is not a fancy appointment but involves real work this time around. You have SSAs who you work with and will coordinate your activities and give me a monthly report of what is going on. You must show me your contacts and relationship with the people and show me the medium of communication to ensure a real impact in all the wards.
"You all belong to our party as your appointment is based on the fact that you belong to our party and must show commitment towards that. You must promote the interest of the party. The people have decided to follow our party and it showed at the last local government election in the State."
According to him, "I am passionate about the poorest of the poor in the State, let me know those who can't feed and eat in your various local governments to enable the government to send palliative measures to them as we must care for our people. We must know those children that can't go to school. We must know the state of our schools. We pay civil servants to work and want you to be our eyes to know those who are really working."
The governor added, "We want unity in our party because we are in charge and the party to beat. Election is coming and politicians will throw all sorts of lies to discredit our party. Your role is to put things in the right perspective as you are the bearers of the truth of what the government is doing and make sure you are there to correct any lies they put out there. You must counter all the lies they put out on social media. I have faith in you to do well and accomplish the goal set out for you."
In his remark, the State Chairman of the Peoples Democratic Party (PDP), Dr Anthony Aziegbemi, congratulated the newly inaugurated appointees.
He said: "You have been appointed at a very crucial time as we head into critical and serious political times starting from next month. It's not a mistake that you are inaugurated at this time from five local government areas as you have your work cut out for you.
"If you were SSAs or SAs in the last dispensation, the work is different this time around because there is a lot of work to do for the party. We know that you are ready to help the party to win the governorship election next year. The interest of the party is towards the 21st of September next year."