Lagos hits N400b IGR in six months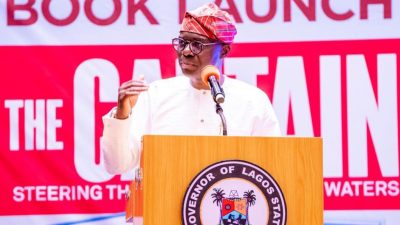 Lagos state government has made about N400 billion as Internally Generated Revenue (IGR) as of June 2023.
The commissioner for Economic Planning and Budget, Ope George, stated this at the 2024 Budget Consultative Forum in Ikeja.
The forum was held in the state's five divisions of Ikorodu, Badagry, Lagos Island, Ikorodu, and Ikeja.
According to George, the government hopes to reach the target before the end of the year.
The commissioner noted that it was expedient to increase the target in 2024, especially as it relates to funding the budget so that more can be done for the people.
He said: "We have a good credit rating and good IGR which can help us attract the right set of investment and funding. So, we have to be very creative with our funding by ensuring it's a mix of IGR and all the funding mechanisms. We're looking at PPP's, and being able to get nice concessions at the right rates. So I think we're fortunate because we are going in the right direction and, hopefully, we can continue to build on that to attract the right investments and funding to be able to solo-fund our budgets and our projects."
The commissioner also said the government will continue to assist the informal sector, especially the Small and Medium Enterprises (SMEs), with grants and soft loans to keep them afloat and sustain the economy.
He added: "We have a huge informal sector and we hope to tap into it to get the benefits therein. It is something the state is very keen to exploit. We have the Lagos State Employment Trust Fund which helps small and medium enterprises with loans and grants, and we will continue to build on that. The SME's are integral parts of our economy. That is why this consultative forum is important – we hear from the people what they need and we act on it because we are better informed. And when the people know what they are getting, they comply more with paying their taxes and levies promptly.
Special Adviser to the governor on Economic Planning and Budget, Olalekan Balogun, said the '2024 budget is geared towards the development of the state and its residents through the provision of improved welfare packages that will be commensurate to the present economic landscape, which will focus on the adequate and proper distribution of wealth and critical infrastructural development of each division of the state for a more sustainable living.