UK civil service ban is politicising TikTok – China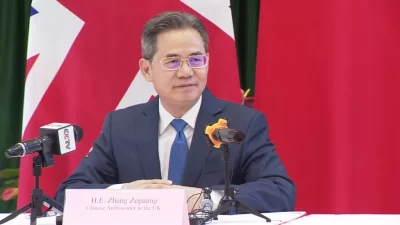 China's ambassador to the UK has accused Westminster of "overstretching the idea of national security" by prohibiting TikTok on official government devices.
The UK government banned ministers from using the app on their work phones, reports the BBC.
Civil servants across the UK – including in Northern Ireland – have since been subjected to a similar ban.
The move was because of concerns sensitive data could be accessed by the Chinese government.
Zheng Zeguang was speaking during his first visit to Northern Ireland to promote economic co-operation.
TikTok has strongly denied claims that it hands over users' data to the Chinese government.
Speaking during a press conference in Belfast, Zeguang said the Chinese government respected privacy in its laws and added it was wrong not to allow people to use the social media app.
"To ban TikTok, to ban UK government officials to use [it] or to describe TikTok as something that is controlled by the Chinese government is obviously overstretching the idea of national security and politicising a technical company," he said.
Zeguang said he thought TikTok's chief executive Shou Zi Chew Shou Zi Chew made it "very clear" to US Congress that the company was "committed to safety, security and to make sure they will not breach any privacy of the users".
The ambassador added that government officials should "try [their] best to understand" the platform as a means of "[staying] in touch with the people".
"You just prevent yourself from understanding the younger generation," he added.
"I would urge policy makers in positions in the UK not just to politicise the issues and not to be led astray by any third country.
"TikTok will continue to be very popular and we will see, we need to put the issues in perspective and focus on the facts."
'Tap the potential'
Zeguang attended events at both Queen's University Belfast and Ulster University during his visit to Northern Ireland and said he was "very encouraged" after several meetings.
Speaking after an energy innovation forum, Zeguang said there is "keen interest on both sides to work together" in hydrogen energy research and production.
"The purpose of my visit is to explore with the officials here, the universities here, the business communities how best we can tap the potential for more exchanges, people to people exchanges, cultural exchanges, educational cooperation, between China and Northern Ireland," he said.
He added that regional cooperation is "such an important component" in state-to-state relations.
"There is a strong interest in the city of Belfast, in Northern Ireland, to tap this potential of cooperation with China."